Trade News
Isibindi Achieves Fair Trade Certification
Isibindi Africa has attained Fair Trade Tourism certification for four of their exclusive lodges in KwaZulu-Natal, South Africa.
Isibindi's lodges are located in some of South Africa's most beautiful locations: Rorke's Drift in the Anglo-Zulu Battlefields (Isibindi Zulu Lodge), Kosi Bay Nature Reserve, (Kosi Forest Lodge), the shores of the iSimangaliso Wetland Park (Thonga Beach Lodge) and Africa's oldest proclaimed game reserve, Hluhluwe iMfolozi Park (Rhino Ridge Safari Lodge). Each lodge offers nature-based experiences that are designed to minimise human impacts.
Fair Trade Tourism MD Jane Edge said Isibindi's prioritisation of community involvement and motto of "tread gently" made their lodges a valuable addition to the Fair Trade Tourism portfolio, and would enable Fair Trade Holiday itineraries to become established in the heart of Kwa-Zulu Natal. "We congratulate Isibindi Lodges on this achievement," she said.
Isibindi Lodges CEO Brett Gehren said: "Achieving Fair Trade certification underpins and gives formal recognition to the huge effort Isibindi makes in doing the right thing and making sure we include communities and conservation in everything we do. We are ever mindful of the very sensitive and precious environments in which we operate".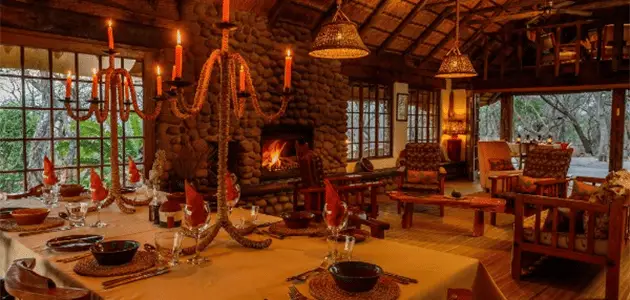 Isibindi Zulu Lodge is an intimate 12-bed lodge that showcases Zulu culture, with its six beehive suites inspired by traditional Zulu architecture. High ceilings are woven with locally thatched grasses to create a perfectly insulated room. Each room is en-suite with bath and shower, and private balconies offer spectacular views over the 2,000 hectare Isibindi Eco-Reserve. Morning and evening game drives and walks are offered and there is excellent birding. Isibindi Zulu Lodge is the ideal place from which to explore the surrounding battlefields with expert guides, as well as learn about Zulu culture and tradition.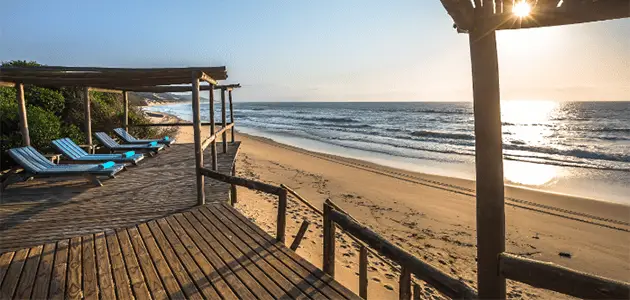 Thonga Beach Lodge is set on the Maputaland Coastline within the 332,000 hectare iSimangaliso Wetland Park, which was declared a UNESCO World Heritage Site in 1992. The 24-bed luxury lodge is the ideal place to discover one of Africa's last unspoilt wilderness beaches. Twelve thatched eco-sensitive suites offer ocean or forest views, with deluxe ocean-view rooms sporting plunge pools. The suites afford maximum privacy and minimal environmental impact and are set on raised platforms in indigenous forest. Birding, fishing, snorkelling, scuba diving and open ocean experiences are on offer while nightly turtle tracking is available in summer. Also offered are sundowners on the shores of southern Africa's largest freshwater lake, Lake Sibaya, and a Tsonga cultural experience. The Lodge supports a school feeding programme, provides equipment to a local primary school, and supplies the local community with up to 50,000 litres of water a day. The Mabibi community owns 63% of the buildings at Thonga Beach Lodge and 95% of staff at the lodge are employed from the community.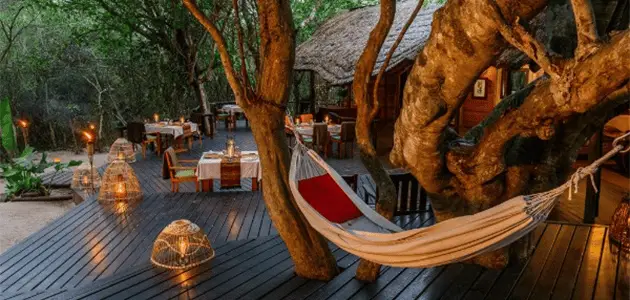 Kosi Forest Lodge, the only private accommodation in Kosi Bay Nature Reserve, is a partnership between Isibindi Africa and the uMvumamvubu Development Trust, which represents the Mnyayiza community. The lodge is a combination of thatch, tarpaulin and wood, with buildings placed around trees, rooms raised on stilts and outdoor bathrooms designed to make guests feel at one with nature. Activities include boating trips, snorkelling, canoeing and fishing, as well as 4×4 excursions to Kosi Bay Mouth and guided walks in the Raffia Palm Forest. Low impact LED lighting and paraffin lanterns are used and grey water is filtered through a natural reed-bed system. The Lodge has conservation ambassadors that help to upskill local guides, start vegetable gardens and recycling projects. Kosi Forest Lodge is one of the very few lodges situated within the iSimangaliso Wetland Park
Rhino Ridge Safari Lodge is situated on the western boundary in the lower Hluhluwe iMfolozi Park. The Lodge offers two honeymoon villas nestled in the indigenous bush with private plunge pools, eight luxury bush villas with open-plan bedrooms, lounge, fireplace, full bathroom and viewing deck, four safari rooms with a private shower room, and two family suites. Rhino Ridge offers guided conservation gorge walks, Zulu cultural visits and a homestay experience within the local community, as well as bush walks and safari drives in the heart of Big Five territory. Walks and cultural activities are conducted by Isibindi Africa Trails, a joint venture between Isibindi and local conservationist Nunu Jobe, who acts as the link with bordering communities. The Mpenbeni Community Trust owns the land on which Rhino Ridge is built and has a 49% shareholding in the Lodge. In 2017, the 53 people employed from the Mpembeni community earned nearly R2,3 million in wages in an area that has very high historical unemployment.
For more information visit www.isibindi.co.za and www.fairtrade.travel
Read more about Fair Trade Tourism:
Why Join the Fair Trade Tourism?
Fair Trade Tourism's Wildlife Petting Policy
Fair Trade Tourism Joins Seychelles Sustainable Tourism Label
Fair Trade Tourism Joins #IYSTD2017 Initiative
Fair Trade Volunteering Criteria Launched
How to Support Responsible Travel in Africa