Trade News
More Lokuthula Lodges Available As Timeshare Leases Expire
The popular self-catering Lokuthula Lodges in Victoria Falls, Zimbabwe will soon be easier to book, as an increasing number of units become available as their timeshare leases expire. (Experience Lokuthula Lodges with Tourism Tattler's Botswana & Zimbabwe package deal for 8-Nights for two people sharing a room at four Safari Lodges at the end of this article – Editor).
Africa Albida Tourism (AAT) chief executive Ross Kennedy said currently ten Lokuthula Lodges were available in the Victoria Falls Safari Lodge stock, but this number was set to increase to 14 in January, and by January 2018 19 lodges would be available for bookings.
"From January 1, two two-bedroom lodges and two three-bedroom lodges will be added to the existing two three-bedroom units, which can accommodate up to eight people, and eight two-bedroom units, which can accommodate up to six people," Mr Kennedy said.
"Having enough lodges to meet demand has been a growing challenge and we are very pleased to be able to advise that the number of lodges available to be booked will almost double over the next year."
Lokuthula Lodges, which are located within the grounds of the Victoria Falls Safari Lodge resort, are available either on a bed and breakfast basis or full self-catering, and are ideal for groups, he said.
"This Lokuthula B&B option is wonderful for families, destination weddings, conferences, as well as school and church groups and sports teams," Mr Kennedy said.
"Several overland companies also use Lokuthula as their start or finish point in Victoria Falls for their Southern Africa itineraries. Combined with a night at The Boma – Dinner & Drum Show, it is a memorable way to begin or end a wonderful trip."
"The regional and local self-drive markets also favour Lokuthula, whilst French, Dutch, Belgian and other European tourists are regular visitors," he said.
In addition, with the premium Victoria Falls Safari Club, award-winning Victoria Falls Safari Lodge and the luxurious Victoria Falls Safari Suites close-by, there is a range of accommodation on offer to suit different preferences and budgets, he said.
"Lokuthula Lodges, which opened in 1992, were sold as timeshare on 25 year leases, so the earliest contracts have now expired, and others continue to expire, and will do so, as the months and years roll on. As contracts expire, so the responsibility for their upkeep reverts to their developers, AAT.
"In addition to the expired contracts, we have encountered various other forms of contract cessation along the way, such as owners leaving the country, deceased estates and cancelled contracts," he said.
"There is a combination of two- and three- bedroom lodges available, and they can now be booked well in advance, in the same way hotel rooms can be booked."
Africa Albida Tourism is a Zimbabwe-owned hospitality group which operates a portfolio of properties in Victoria Falls, including Victoria Falls Safari Lodge, Victoria Falls Safari Club, Victoria Falls Safari Lodge and Lokuthula Lodges, and in Chobe, Botswana.
Package deal: 8-Nights for 2 at 4 Safari Lodges – Botswana & Zimbabwe

This incredible deal, presented with the compliments of  Africa Albida Tourism and TourismTattler, is for accommodation vouchers for two adults sharing a room at four luxury safari lodges in Namibia and includes meals and activities.
Valued at $8,504.00 USD this deal is on sale at a 50% discount for a limited period on Tourism Tattler's consumer travel channels via BidorBuy and Flook Sport & Travel.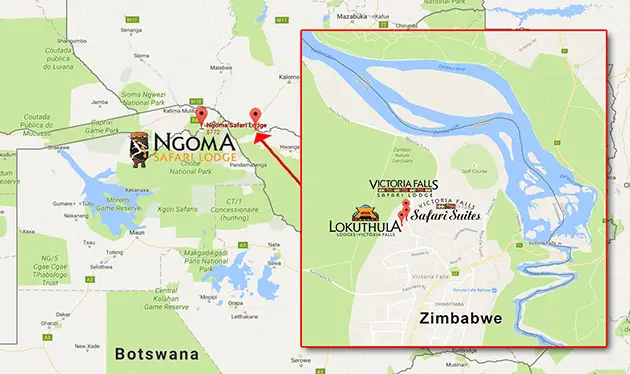 Begin your safari with 2 nights for 2 people sharing a suite on a full board basis at Ngoma Safari Lodge in Botswana. Then cross over to Zimbabwe for 2 Nights at Victoria Falls Safari Suites with meals PLUS  a Vulture Culture Experience PLUS a Guided Tour of Victoria Falls. Then transfer to Victoria Falls Safari Lodge for 2-nights  in a lodge waterhole facing room on a full board basis with game drives, and end your safari with 2-nights in a 2-bedroom Self-Catering Lodge at Lokuthula Lodges in Vic Falls.
FEATURES
• Deal is valid for 11 months! (must be used between 01 December 2016 to 31 October 2017).
• Deal is not valid over the Easter Holidays (14 to 17 April), the mid-year School Holidays (01 July to 31 October), and the year-end Festive Season (21 December to 03 January).
Included:
• Includes accommodation, breakfasts, lunches and dinners for 2 people (except for Lokuthula Lodges, which is self catering) .
• Includes a Vulture Culture Experience.
• Includes a Guided Tour of the Victoria Falls.
Excluded:
• Deal excludes drinks & meals other than as specified.
• Activities other than as specified.
• All flights & airport departure taxes.
• National Park entry fees (currently US$30 per person per entry,paid directly to National Parks in cash).
• Any other charges of a personal nature.
• Airfares are excluded.
TERMS
• Bookings are Subject to Availability at the time of booking.