Technology
Mobile App Disrupts Tourist Guide Recruitment
An innovative new mobile application is rapidly changing the way that tourist guides find work, and tour operators find skilled nature/field, culture, and adventure guides in southern Africa. Review by Des Langkilde.
Developed by Cape Town-based entrepreneur duo Darren Smith and Robert Bernatzeder – a specialist team with over 10 years' of experience in the tourism industry – Recruit a Guide aims to change the way that guides are recruited by using cutting-edge technology to streamline the recruitment process, saving all involved both time and money.
For Tourist Guides
Recruit a Guide's tagline; "Placing people, Not paper", says it all. The mobile app not only connects tourist guides to a large job market but also provides a platform to highlight what sets them apart from other candidates.
A unique video CV component of the app allows guides to introduce themselves to employers by showing off their language skills and other strengths and enables employers to get to know them on a personal level, not just their qualifications. And Recruit a Guide has created a couple of DIY tutorial videos that help guides create professional-looking video CVs.
The Recruit a Guide app is incredibly easy to set up by following seven intuitive steps. In the first five steps, the guide completes his or her personal/guiding related information, languages, skills and interests. The final two steps are completed by recording the guides' video CV and including references or testimonials. Timewise, it doesn't take much longer than the traditional method of filling-in recruitment forms.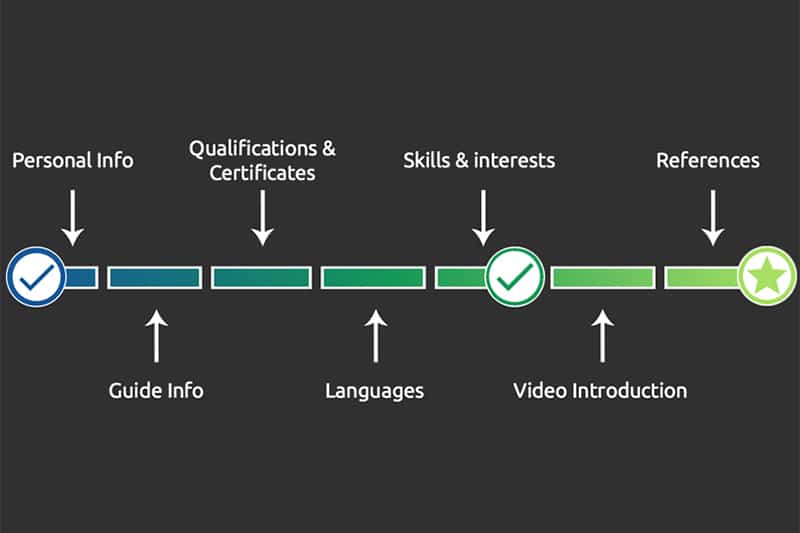 Once the guides' details have been activated, there's a choice to either actively apply for jobs that popup in real-time on the job notice board, or to let job offers come to them. The types of jobs they receive are based on their user preference settings, which include the type of guide, areas of operation, experience, freelance vs permanent, skills & interests, or language preferences.
More importantly for tourists guides, the mobile app is totally free to download and to use with no subscription fees required.
For Employers
In and amongst the fact that the industry is becoming more and more freelance-focused, tour operators often find themselves in a position where their permanent or regularly contracted guides are off sick or on annual leave of absence and need to find a replacement quickly. That's where Recruit a Guide's instant activation really comes in handy.
Employers simply login to the website at recruitaguide.co.za and post a job. They can then browse through the 'Guide board' database, using filters to help refine their searches, including the type of guide, areas of operation, experience, freelance vs permanent, skills & interests, or languages. By clicking on a guide's profile, they can view their bio, qualifications/certificates, and references as well as their pre-recorded video introduction, if the guide has chosen to add one. 
The employer can then personally invite selected guides to apply to their job and message guides they're interested in through the in-app messenger feature.
In effect, the Recruit a Guide system becomes a 'Self-service Agency' whereby employers can monitor their job post applications by shortlisting or declining guides who have applied.
For employers, a moderate fee is charged, with three options to choose from. The Basic option provides for one job posting, Classic for three job postings, and Premium for unlimited job postings plus a featured banner and a top placement in search results. There's also a free once-off option for employers to try out the system by placing three job postings. Watch the short video clip below to see how this works.
For Training Schools
On the Recruit a Guide website, there's a handy page for guides to find CATHSSETA (SAQA) and FGASA accredited training providers by province for either Field Guide or Culture Guide training and certification.
Conclusion
My headline to this review article is not mere speculation; Recruit a Guide is already disrupting the way that tourist guides find work, and employers find skilled guides in southern Africa. According to Smith & Bernatzeder, Recruit a Guide was only launched about 2 months ago, and has already received over 500 app downloads, over 50 job posts and is averaging more than 10 new users per day. This rapid growth is a mute testament to the level of excitement shown by the industry. 
Tempora mutantur et nos mutamur in illis (the times are changing, and we change in them).
For more information visit www.recruitaguide.co.za
Read more on this topic: