Ideally positioned along KwaZulu-Natal's Route 22, between the village of Jozini and the Mozambique border, Ndumu River Lodge provides an ideal wilderness retreat for business travellers, incentive groups, wedding functions or just a long-weekend away. By Des Langkilde
Researching the Ndumu River Lodge website prior to departing on the 4.5 hour drive from Ballito to Jozini, I left with a feeling of trepidation about what to expect. Thankfully, the website does not do justice to this 3-star TGCSA rated lodge but they are in the process of re-doing their website.
Ndumu River Lodge lies midway on the far North Eastern edge of Route 22. An initiative of the Umhlosinga Development Agency, Route 22 extends from the iMfolozi River to the borders of Swaziland and Mozambique. Seven days on Route 22 offers: The Big 5 in the Hluhluwe-Imfolozi Park and other private game reserves in the district; the "Small 5" and "ugly 5"; water adventure activities along the shores of South Africa's first World Heritage Site, iSimangaliso; a world-renowned diving site in Sodwana; over 500 bird species in Ndumo Game Reserve and surrounds; unique beadware and a wide range of authentic craft and last but not least, home-made pineapple juice and dried pineapples for which the district's agricultural industry is renowned.
Route 22's luring attractions flashed by as we drove along the N2, took the Jozini turnoff and paused briefly to admire the sunset over the Pongolapoort Dam from the elevated height of the pass.
Warm Welcome
The old saying "Some people look for a beautiful place, others make a place beautiful" came to mind as my wife Beverley and I were welcomed on arrival by Ndumu River Lodge's management couple, Mark and Karen Kotze accompanied by a couple of Great Danes and a energetic Labrador pup.
The warm welcome, coupled with the well maintained ambiance of the reception area, with its terracotta facade and grandiose thatch roof was a pleasant surprise, which melted away my preconceived notion derived from their website.
Climbing the railway sleeper stairs (there is a wheel-chair ramp to the side of the stairs) leading from the gravel parking lot to the reception building, we could see a cosy boma styled braai area to the left and wooden stairs on the right leading up to the bar and lounge set above the open plan dining room area.
Mark's natural flair for hospitality and his humorous bantering is infectious and, although having just met, we felt as if we were among long lost friends as the stress of driving slowly seeped away while sitting on the verandah, watching the night cloak the surrounding bush, and sipping on complimentary Lala Palm wine, which is locally brewed.
Mark and Karen, we discovered, had only taken over as resident lodge managers in November last year and their personal touches are evident in the recently upgraded facilities and amenities, due I'm sure to Karen's flair for interior design, as she also runs her own business; KiDeco Design, the slogan for which is rather aptly 'Making Sense of Design.' The couple make a perfect hospitality pair considering Mark's extensive experience at renowned properties such as the Drakensberg Gardens Resort, Glen Garry (in London, UK), the Gardens Hotel in Port Harcourt, Nigeria and even an exclusive lodge in Tanzania's Mafia Island marine conservancy called Kanasi.
Activities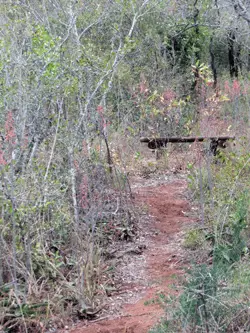 After a sumptuous three course à la carte dinner and a restful night's sleep, I arose early for breakfast to meet Brent McDougall, the resident gap-year guide, for a walk around the five hectare property. Brent proudly guided me along a network of pathways, which he and his team have purposely hacked through the bush and thorn scrub to enable visitors an opportunity to view some of the unique flora and plentiful birdlife. Quaint water features and rustic benches have been built at strategic points along the pathways for visitors to rest while soaking up the sound of birds twittering in the surrounding bush.
Birdlife
The indigenous Sweet Lowveld Bushveld, the only example of this flora in the KwaZulu-Natal province, supports a vast array of bird species, including some that are rare in other parts of Zululand. These include Burchell's Starling, Bennett's Woodpecker, Levaillant's Cuckoo, Purple Roller, Magpie Shrike and Red-headed Weaver. The area also contains eastern coastal plain endemics such as Rudd's Apalis, Pink-throated Twinspot, Lemon-breasted Canary and Neergard's Sunbird. Being a keen beginner birder and photographer, Karen catalogues a record of birdlife spotted on the estate for guests to reference at reception.
Fishing
A short walk outside the estate's fenced-in perimeter leads down to the Pongola river, where guests can enjoy a picnic and cast a line. The Pongola River is home to a staggering fifty species of fish, making it the most diverse freshwater ecosystems in South Africa. Over 40 of these species are found in the Pongola Floodplain below Lake Jozini, king of which is the mighty Tiger Fish (Hydrocynus Vittatis) offering arguably the best freshwater sport fishing on the African continent.
The Pongola River has its source in the Mpumalanga Province exiting the Lebombo Mountain range below Lake Jozini. Here the river encounters the flat Mozambique coastal plain and seems to stretch out and put up its feet as it meanders casually between the ninety odd pans that make up the Pongola Floodplain – South Africa's largest and most diverse freshwater ecosystem and a  nature lover's paradise.
Sundowner Cruise
For sundowners aboard the lodge's rustic boat, Brent will happily hitch-up and drive guests a short distance to a nearby freshwater pan. Seeing how the local rural residents live and fish on the pan is an experience in itself. Bird spotting on our trip included a wonderful Pink-backed Pelican, African Jacana's walking on the water lilies, Purple Heron, a Fish Eagle, African Darter, White breasted and Reed Cormorants. Other birds that excite Twitters and can be spotted in the area include the African Finfoot, Pell's Fishing Owl, Pygmy Goose, Black Coucal, Narina Trogon, Half collared Kingfisher and Southern Banded Snake Eagle.
Excursions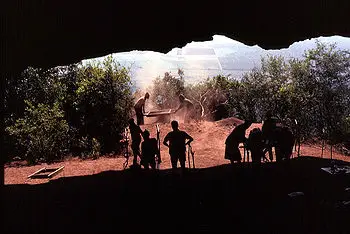 Self-drive day trips in the area offer a wide array of excursions. Border Cave near Swaziland on the western scarp of the Lebombo Mountains has a remarkably continuous record of occupation spanning about 200,000 years. The cave was made famous by the discovery of the "Lebombo Bone", the oldest known artefact showing a counting tally. Dated back 35,000 years, it is a small piece of baboon fibula incised with 29 notches, similar to the calendar sticks used by the San of Namibia.
The Hlatikulu Crane & Wetland Sanctuary is a rescue, rehabilitation, and captive breeding facility for all three of South Africa's crane species.  There are 15 crane species from around the world and all of them are endangered or under threat to some degree.  The main reason for this is that cranes are intimately linked to the grassland biome – often limited to wetlands – and this biome is the most threatened by agriculture and other human activities.  We often hear about the destruction of the rainforests, but grasslands have been decimated by agricultural activities since our species first developed farming 10,000 years ago.
Game Viewing
Elephants are prolific at the nearby Big 5 Tembe Elephant Park, located 17km from the lodge. Tembe was established in 1983 to protect elephants which used to migrate between Maputuland and Southern Mozambique.  These elephants were traumatised by poaching during the civil war in Mozambique so the park was only opened to the public in 1991. The park is now home to 250 elephants and lucky visitors just might catch a glimpse of ISILO who has the largest tusks in the Southern Hemisphere, or the wild dogs or lions.
Ndumo Game Reserve is a 19km drive from the lodge in the opposite direction and is stocked with game including huge Nile crocodiles, hippopotamus, red duiker, nyala, impala, giraffe and cape buffalo. Ndumu River Lodge is renowned for its prolific birdkife, and the lodge is a birder friendly establishment and is registered as such by Birdlife South Africa.
Accommodation
Ndumu River Lodge offers air conditioned en-suite and self-catering rooms as well as camp sites with power points, braais and communal ablution facilities.
The suites are arranged in a series of single-story buildings with private front-facing balconies. Units are available in either double bed or twin bed configurations and include an en-suite toilet and shower with changing area. Each unit is equipped with a writing desk, tea / coffee facilities, TV, ceiling fans, air-conditioning and a wall safe for valuables. A wheelchair-friendly unit is also available.
A total of four self-catering chalets cater to single couples or larger families with one single bedroom chalet, two four sleepers and one six sleeper chalet, each fully equipped with kitchen appliances and cutlery. Bedroom linen is included in each chalet and all rooms are serviced by the cleaning staff daily.
The Ndumu River Lodge restaurant serves a varied à la carte menu for breakfasts, light lunches and dinner. On occasion, a boma style braai around a roaring fire pit is provided. Situated above the restaurant overlooking the salt water swimming pool is a comfortable lounge and bar with big screen TV for rugby fans.
Conferences and Weddings
Ndumu River Lodge caters for weddings, product launches and company conferences, which can also be hired for celebratory functions. The lodge grounds provide the perfect setting for wedding photo shoots that will leave the bridal couple and entourage with lasting memories and lingering hang-overs.
Future Plans
As with most new hospitality management couples, Mark and Karen have already made their personal mark in the upgrading of facilities at Ndumu River Lodge. "The owner, Gary Nel also owns Pipeline Engineering and a construction company, which is just as well as we have a long list of projects that we'd like to implement" says Mark. They are in the process of completing another block of four executive rooms, which is due for completion by the year-end.
Ecotourism
I asked Mark what environmental sustainability initiatives the lodge has in place to attract, or at least appease eco-tourists. "We separate and recycle our solid and wet waste. Our used cooking oil is collected for bio-fuel recycling, while wet waste is collected by a local piggery. We drop off our used office print cartridges and alkaline batteries at the local Pick 'n Pay recycling depot. We also use linseed oil to maintain our outdoor wood constructions instead of varnish" he said.
From a community upliftment perspective, Gary Nel has donated numerous amenities to the local community, including school class rooms and a local church near Kosi Bay mouth.
For more information visit: www.ndumu.com