News
Pinotage King Launches Writer's Block
In keeping with its motto "We are born creative", Flagstone Wines' head winemaker, Gerhard Swart, has created a single block pinotage that will surely rejuvenate any writers creative slowdown during the COVID-19 lockdown.
"When we named this pinotage 'Writer's Block', we needed a creative solution to delineating this single block wine during a period when South Africa's laws prevented single-vineyard designation on bottles", says Swart. A single block is special because it is a pure expression of that corner of the world for a particular year. It is a description of time, manner and place – a confluence of nature.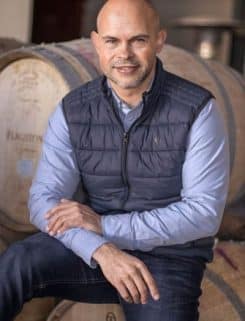 "We wanted to communicate this to wine drinkers, to let them in on this restricted information because single-vineyard wine is a story about a relationship, the marriage of a piece of land to a single varietal soul-mate. The name Writer's Block tells that story.
"We've been using a special block for this Pinotage for nearly two decades. The highest vineyard in the area, planted in ancient, decomposed granite soil, right up against the slopes of the Waaihoek Mountain.
 
"We hand-pick the concentrated bunches of this block over a few days, rather than weeks, because of the relative uniformity of the soil. After caring for the vines and keeping the fruit healthy through ripening we let it hang longer than most Pinotage in the area, teetering on the very edge of cultivation while reckoning with birds and baboons who have an eye for the delicious berries," Swart concludes.
As any winemaker will tell you, making great Pinotage is challenging. It's a temperamental grape known to cast scorn on anything less than the fanatical obsession it demands.
"Fortunately, our head winemaker is a stickler for detail and is well versed in the annual serenade of Pinotage," says Alison Pearce, Global Brand Ambassador and Sales & Marketing Lead, Southern Africa.
Gerhard Swart's enthusiasm for South Africa's signature varietal has seen him crowned a veritable Pinotage King, consistently placing in the ABSA Top 10 Pinotage awards; winning Platter's Pinotage of the Year, and a glitter of stars and medals to adorn Flagstone Pinotage bottles.
"To say that Gerhard's relationship with Pinotage is obsessive is to believe the creativity of the process. Courtship is a more pertinent description, and the result of that harmony is the bottles of a dazzling joy we call Flagstone Wine," concludes Pearce.