Since a visitor would find it hard-pressed to visit all the sand dunes and intriguing sites of each of the countries in Southern Africa, we will focus this article on Namibia, with mention of its neighbors South Africa, Botswana, and Angola. By Kwakye Donkor.
Southern Africa is home to many sprawling deserts and seemingly endless expanses of land – perhaps at first glance, not a typical travel itinerary, but one that should not be overlooked, for here lies the beauty and mystery of a fascinating adventure. Surely a trip to this magical and mysterious region is more than worthy of a multi-destination itinerary, and quite frankly, makes sense to take advantage of what will surely be the trip of a lifetime.
Namibia
Namibia never fails to enthrall its visitors, to charge the fantasies and imaginations of narrators in their efforts to aptly describe the many-faceted grandeur and harsh splendor of this desert country. Having endured arid or semi-arid conditions for at least 55 million years, it is considered to be the oldest desert on Earth. The wildlife and flora surviving here are fascinating, and have adapted to life in this generally inhospitable region in unique and strangely beautiful ways. A trip to this area is a remarkably surreal experience, but most visitors revel in its strangeness.
In the Nama language, Namib means "vast," and here the desert occupies around 80,900 square kilometers, stretching 1,600 kilometers along the Atlantic coast of Namibia, varying in width from 50 to 160 kilometers. It is protected by the Namib-Naukluft Park, a wonderland of 50,000 square km of shifting sands and vibrantly-colored dunes. It is the world-famous Sossusvlei sand dunes that attract the most attention. The immense ochre sand dunes at Sossusvlei are one of the most astonishing sights in the world. Blown into razor-sharp ridges by the sand-shifting winds, the impossibly dramatic red dunes are the highest in the world, towering some 300 meters into the air.
These magnificent dunes are accessible to any self-driving visitor, and there is plenty of excellent accommodation in and around the area. The best time to view Sossusvlei is close to sunrise and sunset, when the vibrant colors change constantly, allowing for wonderful photographic opportunities. One of the best ways to appreciate the magnificence of this area is by light aircraft on a scenic flight from Walvis Bay or Swakopmund, or by catching a balloon ride over the dunes, although it can also be entered overland by gravel roads.
Namibia's capital city, Windhoek, is laid-back, funky and eclectic, and one of the safest cities in Southern Africa. Coastal Swakopmund is one of the most surreal and unforgettable destinations in the country, with African and European influences having fused uniquely and offering a different kind of sand dune. A section of dunes have been set aside for adventure activities such as sand boarding and skiing, quad biking, camel rides, and off-road driving. Swakopmund also offers diving, surfing, or simply lazing on the beach, and boat trips to see dolphins and seals. Surrounding the town is the Namib-Naukluft Park, one of the most bewitching desert wilderness areas in Africa.
Etosha National Park, meaning "place of dry water," is centered around a huge, flat calcrete pan of about 5 000 square kilometers. The pan provides a great, parched, silver-white backdrop of shimmering mirages to the semi-arid savannah grassland and thorn scrub. Containing water for only a few days each year, the pan lures thousands of flamingos. Served by three well-established rest camps and a host of private lodges along its borders, Etosha offers visitors a wide choice of safari options and a rich wildlife.
Main image: The Welwitschia plant is considered a living fossil, and is found only in the Namib Desert. Image © Wikimedia Commons.
South Africa
One of the most famous destinations in South Africa is the Cradle of Humankind – one of eight World Heritage Sites in South Africa, and the only one in Gauteng. It is widely recognized as the place from which all of humankind originated.
The 47,000-hectare site has unearthed the best evidence of the complex journey which our species has taken to make us what we are – a place of pilgrimage for all humankind. There are 13 excavated sites which have been identified within the area, and these have been declared as national heritage sites by the South African Heritage Resources Agency (SAHRA). The careful management of these unique sites is a clear priority if the site is to be preserved and sustainably utilized.
The world-renowned Sterkfontein Caves is home to the oldest and most continuous paleontological dig in the world. It is also the site of discovery of the famous pre-human skull affectionately known as "Mrs. Ples," and an almost complete hominid skeleton called "Little Foot," dated 2.3 and 4.17 million years old, respectively.
The Cradle of Humankind World Heritage Site has become a major international tourism destination with a total of 387 tourism attractions including 91 graded establishments. There are 175 places to stay and 113 restaurants in and around the area to choose from. Seventy Conference venues and 44 wedding and event venues can accommodate from 20 to 800 guests.
Botswana
Imagine an area the size of Portugal, largely uninhabited by humans – this is the Makgadikgadi Pans. It is the largest dry lake in Africa, with an area of 12,000 square kilometers, and it is widely believed to be one of the largest salt flats on Earth. The Makgadikgadi is a breeding ground for aquatic birds, its waterholes providing wonderful game viewing, with its land area encompassing around 10,000 square kilometers of the Kalahari Desert.
Some of the pans are enormous, while others are the size of a small duck pond, and around these are rolling grasslands and the occasional picturesque palm-tree island. Many pans are interrupted with sandy desert in between, the largest being the Sua (Sowa), Ntwetwe, and Nxai Pans. Baobab trees and Kudiakam Pan are also part of life found in the Makgadikgadi.
Due to their combined importance for wildlife migrations, this national park was established concurrently to protect the entire ecosystem. Four-wheel drive is recommended for travel, and there are several lodges and campsites that cater to the fully-equipped, self-drive visitor. Visit the pans during both the dry and the wet season, in order to see the pans at their starkest and then witness their transformation to the wonderland forming the backdrop to dramatic migrations.
Angola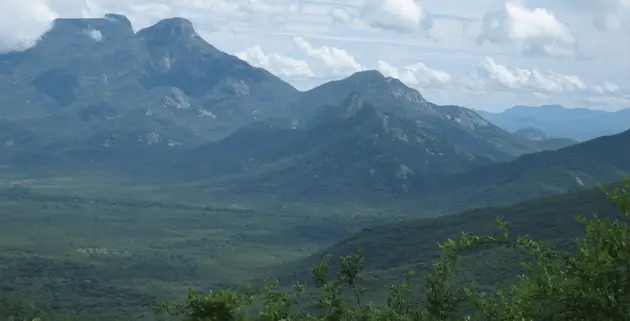 Sprawled over 15,150 square kilometers is the largest national park in the country – Iona National Park. Bordered to the west by the Atlantic Ocean, it forms part of a continuous block of 1,200 kilometers of protected land together with Namibia's Skeleton Coast and the Namib Naukluft National Park. There is a variety of desert and semi-desert ecosystems in the Iona National Park, including mobile dunes along the coast, desert grasslands, open woodland, and savannah. Some of the remote desert landscape is a photographer's dream.
Before the Angolan civil war, Iona National Park was known as an animal paradise, rich in big game. Unfortunately, illegal hunting and poaching, as well as the eradication of infrastructure caused considerable damage, however, efforts are underway to replenish the wildlife lost during the civil war, and today you will see springbok, kudu, ostrich, oryx, and the rare cheetah. The park is known for its unique flora, including the Welwitschia Mirabilis. It also contains incredible rock formations and a varied birdlife.
The park is home to many indigenous peoples, who have remained isolated from and oblivious to the outside world, and who are described as the most culturally intact on the African continent. Iona is home to such peoples such as the Mucubal and Himba, as well as many Kimbundu groups. Most are subsistent farmers and herders.
Start your journey
Most visitors enter Namibia at Hosea Kutako International Airport located 45 kilometers east of Windhoek. International flights arrive multiple times throughout the week from Johannesburg and Frankfurt via a number of carriers including Air Namibia. Other airlines with scheduled flights to Namibia include British Airways, South African Airways, LTU, and TAAG, the Angolan national airline. The airport terminal offers a bevy of shops and restaurants, also ATMs and other helpful services, including taxi and shuttle transportation that is also available to and from Windhoek.
Getting around Namibia is remarkably easy for all levels of travelers. Roads are generally good, routes well marked, and Namibia is full of friendly, helpful people to guide you along the way. With proper planning and packing, the country is yours.
To get to Namibia's neighboring countries of South Africa, Botswana, and Angola, the simplest form of travel is by air. That being said, traveling by road can be a wonderful experience, but visitors need to be aware of all the relevant regulations and precautions to take a vehicle across a border and what paperwork needs to be completed in advance.
About RETOSA: RETOSA is the regional institution responsible for tourism development and growth. The organization aims to increase tourism arrivals to the region through sustainable development initiatives, improved regional competitiveness, and effective destination marketing with strategic partners. For more information about RETOSA, go to www.retosa.co.za
About the Author: Kwakye Donkor is the Marketing and Communications Director at the Regional Tourism Organisation Of Southern Africa (RETOSA).