Trade News
South Africa Grows Tourist Arrivals for 2018
JOHANNESBURG, 30 July 2018 – South Africa continues to be an attractive tourist destination for travellers from across the world, with the latest figures showing an increase of 2.7% for the first five months of 2018 compared to the first five months of 2017. 
Last week Statistics South Africa released the latest official tourism figures showing that South Africa welcomed a total of 4 423 165 tourists from January to May 2018 compared to the 4 308 358 tourists that visited South Africa during the same period last year.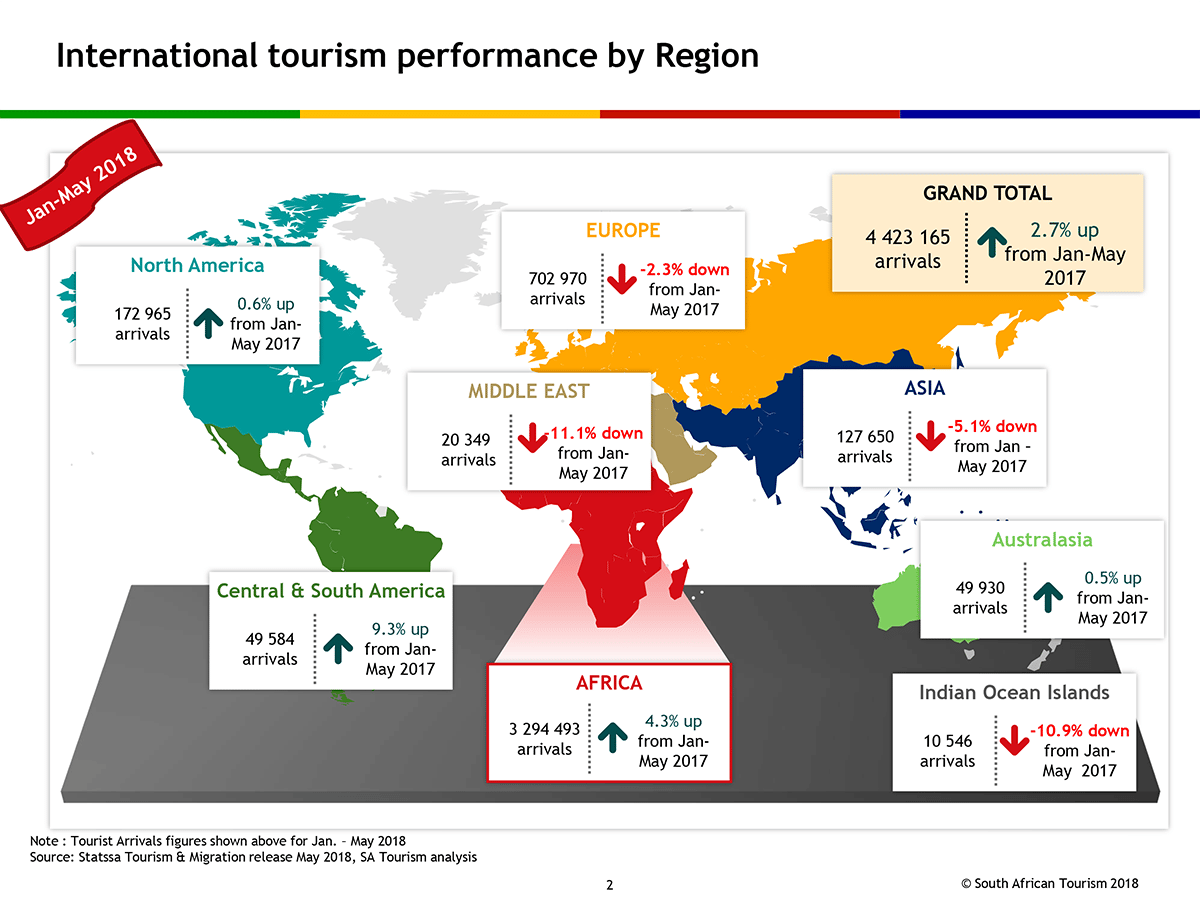 Africa continues to be the biggest contributor of tourist's arrivals with a noticeable increase of 39.2% increase in the number of Angolans visiting South Africa during the month of May 2018 compared to the same period last year.
This increase can be attributed to the visa waiver which came into effect in mid-December 2017. A combination of concerted marketing efforts and investments including deal-driven campaigns, outdoor campaigns, South Africa's diverse tourism offering and experiences as well as big events contributed to growth in tourist's numbers coming from other African countries with Zimbabwe growing by 5.8%, Mozambique by 3.6%, Malawi grew by 1,573 (12.2%) to 14,477 and the Democratic Republic of Congo by just over 35%.
South African Tourism Chief Executive Officer, Sisa Ntshona, welcomed the overall growth in tourist numbers coming from the rest of the African continent.
"We are so pleased to see the growth in the number of visitors coming from the various countries of our continent. These are however more than just numbers. These represent the results of the all-important partnership that we have in-market. Through these partnerships and various other marketing efforts, we have extended an invitation and we stand ready to welcome even more tourists from the rest of the African continent," said Ntshona.
Ntshona also noted the 3,7 % decline in the number of overseas tourists. While the overall number of people travelling to South Africa from Europe declined by 2.3 %, the number of French tourists coming to South Africa grew by 6% and the Russian Federation grew by a staggering 60%, also due to the result of a visa waiver. Asia experienced a 5.1% decline and the number of tourists coming to South African from the Middle East declined by 11 %.
The Americas saw growth driven by the South American markets with Argentina growing by a phenomenal 30%, Brazil growing by 5%, and Chile by almost 7%.
"We have seen the positive effects of the removal of barriers on the tourism industry. We are therefore excited by the possibilities that lie ahead with government's reaffirmed commitment to bolstering tourism through destination marketing and reducing regulatory barriers, as articulated in President Cyril Ramaphosa's State of the Nation address," said Ntshona.
South African Tourism is almost 18 months into its "5-in-5" strategy to attract an additional five million tourists in five years, by 2021, made up of four million more international arrivals and one million more domestic holiday trips.