Accolades
Stormsriver Adventures Wins Sustainable Tourism Awards
MOMBASA, Kenya, 18 October 2018 – Stormsriver Adventures has been awarded two Sustainable Tourism accolades presented during the Opening Ceremony of the 79th Skål World Congress in Mombasa today.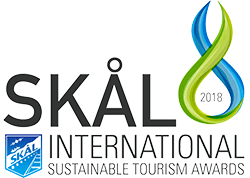 The awards were attained in the 2018 Skål International 'Tour Operators and Travel Agents' and 'Community and Government Projects' categories. This is not only a great accolade for Stormsriver Adventures – Tsitsikamma Canopy Tours but for the South African tourism industry in general.
A total of 62 entries from 31 countries competed this year to win the Sustainable Tourism Awards, which were introduced 17 years ago and have grown in significance year on year.
"Twenty years ago we started with only 4 employees and today we employ 38 permanent staff, 23 annual and 60 seasonal casuals; this is a great achievement for our entire team of dedicated professionals", said Stormsriver Adventures MD, Ms Anneline Wyatt on receiving the awards. "Our community initiatives go beyond the economic impact of only employing locally; we feed about 235 scholars three times a week with our school feeding scheme, our HIV/AIDS and Animal Welfare awareness projects championed by our staff are well received and appreciated by our adjacent communities."
The operating company is now 48% employee-owned and continues to champion the principles of Responsible Tourism in its operations and to use its activities (Tsitsikamma Canopy Tours, Woodcutter Journey and Guided Hikes) as a platform to protect and sustain sensitive indigenous forests.
Ashley Wentworth, CEO of Stormsriver Adventures thanked Skål International for these accolades and said "Ongoing training and development has remained the cornerstone of our business and is the single largest investment in our operation. People are the business and the business is its people."
Skål International is an Affiliate Member of the UNWTO whose mission is to promote the development of responsible, sustainable and universally accessible tourism. We have adopted the UNWTO Global Code of Ethics in Tourism, and also support the ST-EP initiative (Sustainable Tourism-Eliminating Poverty). Skål is affiliated to other important international organisations such as IIPT, The Code, ECPAT, ICTP, STI.
Following the United Nations declaration of 2002 as the Year of Ecotourism and the Mountains, Skål International launched these Awards in the same year, to highlight and acknowledge best practices around the globe. As an international organisation of tourism industry leaders, Skål International is a powerful force in the travel and tourism industry to initiate change and encourage the conservation of the environment in order to promote tourism and travel.
Any company from the public and private sector, NGOs, government agencies, and educational institutions worldwide can submit an entry in one of the following available categories:
Community and Government Projects
Countryside and Biodiversity
Educational programmes and Media
Major Tourist Attractions
Marine and Coastal
Rural Accommodation
Tour Operators-Travel Agents
Tourist Transport
Urban Accommodation
For more information visit www.skal.org