Thousands of local and foreign trailers joined in the 10th annual Ferney Trail Run to raise funds for the physically handicapped and nature conservation in Mauritius. By Debbie Hathway.
Everybody wants to go to Mauritius, at least once, but my love for this island and its people have opened the door to many opportunities. I visit often 'to work' (a writer's brain is always looking for the next story angle), I drive myself around, I have a Mauritian mobile phone number. Oh, and a tattoo of a dodo on my right shoulder – and I was one of those who swore she'd never have one.
There's something in the air, literally, that rejuvenates body and soul from the minute my feet hit the tarmac at Sir Seewoosagur Ramgoolam International Airport (research by the United Nations Environment Programme (UNEP) in 2015 rates the island's air quality one of the best in the world). Having previously hiked up Le Morne Brabant, a UNESCO World Heritage Site known for the shelter it provided runaway slaves in the 18th and 19th centuries, in the southwest, I jumped at the chance to cover a trail run in the protected La Vallée de Ferney (Ferney Valley) in the southeast.
Ferney Trail Run
The Valley is about an hour's drive from Long Beach Golf and Spa Resort on the Mauritian east coast, my hotel for this trip. I was part of a select group of media invited to run, walk and hike through intersecting routes of the annual Ciel Ferney Trail in September 2017, easily the single largest sporting event on the island by the number of participants, playing host to 3 200 trailers. This included about 30 handicapped people who completed the course under the supervision of Inclusion Mauritius group NGO volunteers and Ciel staff. Among them was the physically handicapped 12-year-old Ethan, who was carried by a team of volunteer trailers along the Nando's 10km track in a special chair usually used for the Rod Trail on nearby Rodrigues Island.
The Ferney Valley is a 200ha sanctuary for rare or endangered indigenous species such as the Mauritian falcon known as the kestrel. A public-private partnership between the Government of Mauritius and Ciel Group ensures the restoration and protection of this part of the island's rapidly diminishing heritage – less than two percent of the indigenous ecosystems on Mauritius are still intact.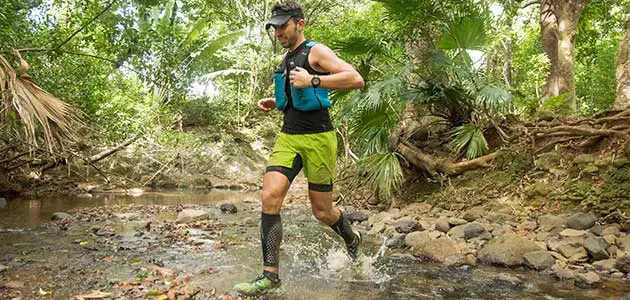 Our itinerary included a pre-race recce so that we could experience the views, as the routes climbed higher into the forests, and some of the tracks – ranging from dry open dirt road to narrow shady routes muddied by recent rain that took us through the forest canopy and past waterfalls. A pair of kestrel circled above us as we reached a lookout point at the top of a steep hill.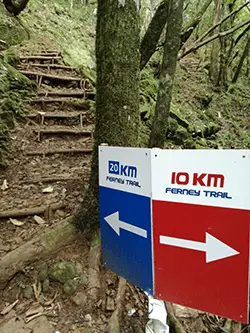 On race day, we made the pre-sunrise start of the technically challenging Mauritius Union 50km race that would give the competitors the opportunity to reach Lion Mountain by dawn. This is a race for tough trailers, encompassing a 2 500m vertical drop and very difficult passages through the mountains. After watching staggered starts for the 20km, 10km and Sun Resorts 4km category for younger trailers, we went out on the course again, splitting up to pursue different angles for photographs and drone footage. The resident buck hid high up in the trees, and we caught sight of them when they darted across open spaces, one at a time.
This edition was themed 'Bouze Moris' (Move Mauritius). Mathieu Razé, Head of Communications for Ciel Group, says "It is important for us that every citizen becomes aware of their capacity to build the Mauritius of the future, with respect for each other and the environment."
It certainly did that, attracting positive feedback from participants and spectators, many of whom said they would return for next year's edition. The event raised Rs 400 000 (R160 000), which will be shared between Inclusion Mauritius and the Vallée de Ferney Conservation Trust.
Resort breakaway
Unwittingly, I had notched up 32 000 steps over the two days, according to my mobile phone, and my body craved a massage. Back at Long Beach, I was lucky to get a booking at the Cinq Mondes Spa tucked away in a haven of greenery away from the bustle of the hotel. I opted for the 'deep-relaxing Balinese massage', keen to experience the ancestral rituals of gentle Thai stretching and traditional smoothing movements. The combination of the tranquil environment practised hands and fragrant Tropical Nuts Melting Body Balm soon had the desired effect. Suffice to say I called for buggy transport back to my room – the sprawling resort is so-named for good reason and the buggy drivers provided sterling service any time of the day or night. The hotel was full and it was reassuring to see the strong support by the guests for the evening entertainment programme. The outdoor stage is well positioned so that the sound doesn't disturb guests who want to retire early.
I've made a mental note to never forget to pack mosquito repellent. I'm not a fan of air-con so I prefer to sleep with windows and doors open, especially in a sea-facing suite. That weekend, however, it was windy and therefore noisy. Opening the door eliminated the wind's piercing whistle, but ushered in hungry insects that found exactly what they were looking for…
Getting There
Effective March 2018, Air Mauritius will be upgrading their Cape Town flight schedule and aircraft. Flight times on their Airbus A340-300 aircraft with 264 seats in economy class and 32 lie-flat business class seats have been adjusted to an overnight operation from Cape Town International Airport and a late afternoon departure from Sir Seewoosagur Ramgoolam International Airport in Mauritius. Air Mauritius and SAA fly to Mauritius from OR Tambo in Johannesburg.
Where to Stay
World Leisure Holidays are the exclusive distributors of accommodation for Shangri-La's Le Touessrok Resort and Spa in Trou D'eau Douce, as well as Long Beach Golf and Spa Resort in Belle Mare, both on the east coast.
For more information visit: ferneytrail.com / airmauritius.com / wlh.co.za
About the author: Debbie Hathway is a Cape Town-based journalist specialising in luxury lifestyle and travel, health and wellbeing, business and the arts. www.debbiehathway.co.za • [email protected]  •  Instagram: hathway.debbie •  Twitter: @debbiehath