Travel
Best Fishing Adventures in Africa
Read about the best fishing adventures in Africa
The first thing most people will think about when they hear 'Tourism in Africa', is Safari. It is true, Africa's wildlife is the most iconic in the world and this great continent has some of the most varied animals on show. But there is plenty more on offer here, than just Safari.
Explore the continent's stunning and varied countries, meet the incredibly diverse peoples and experience the huge range of cultures. There is also plenty of opportunities to relax like full day SPA packages and all-inclusive resorts.
If you are a big fan of land-based casinos, you will find many options on the continent or you can always enjoy a few options of online casinos from the comfort of your hotel. Try your hand, maybe you will get lucky! Or, if you are trying your luck, why not have a go at some extreme fishing?
A great deal is said about Africa's land animals, but this continent is also blessed with a rich coastline and a web of river systems that run its whole length. Africa offers some of the best fishing and angling excursions on the planet! Here is a look at some of the most enticing options:
Durban, South Africa
The city itself offers great inshore fishing, which is perfect if you are travelling as a family and are there to explore the city and you also want some relaxed fishing. If you are a keen angler and have gone to do some more serious fishing, then you have plenty of offshore options and a short boat-trip will put you in amongst some big fish.

You can expect to catch Marlin, Yellowfin and Skipjack Tuna and there is also a chance of a Bludger Trevally. Like most creatures on the continent, they are some of the largest and most impressive you will encounter in your lifetime!
The Mnyera and Rhudji Rivers, Tanzania
Tanzania is famed for its saltwater fishing, however, when we think of angling, there is another draw to this epic country: one of the most fearsome fish, a legendary beast and notorious river-monster, the one and only Tigerfish! One of the meanest-looking creatures on the planet, they can grow to gigantic proportions.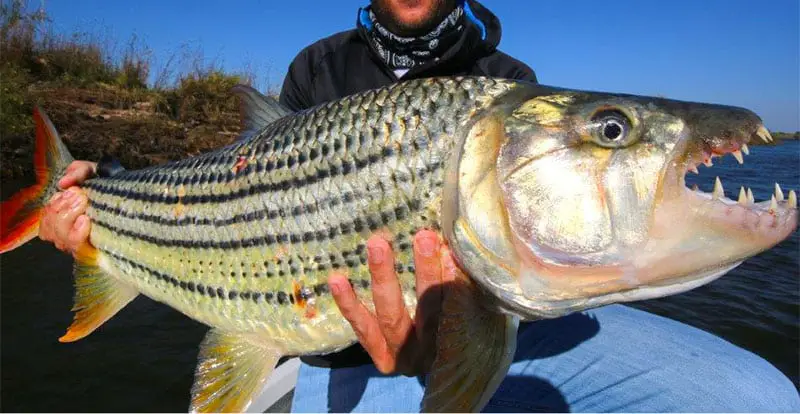 The rivers here are also home to the Yellowfish and the Vundu Catfish. Set in some of the most beautiful scenery, it will be something you will remember forever. Take a guided tour for the best tips and quality of experience and also to ensure your safety as this type of fishing is not for beginners!
Cape Verde Islands
If you are looking for some of the most exhilarating and high-reward sea-fishing in the world, then look no further than the Cape Verde Islands. Off the coast of Senegal, the islands are surrounded by a deep ocean floor.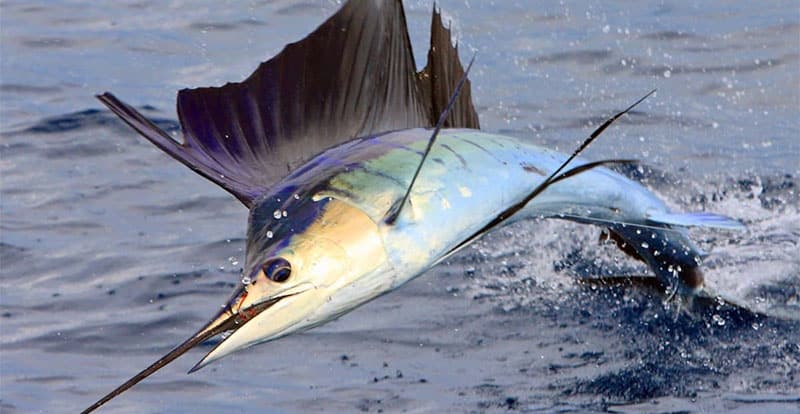 You can catch White Marlin, Yellowfin Tuna, Mahi Mahi, Sailfish, Bigeye Tuna, Wahoo, Spearfish, Trevally and several species of shark. Bottom-fishing will also produce, Grouper, Amberjack and Snapper. Some fish grow to gargantuan proportions in these waters!
Luanda, Angola
Luanda is the place to go if you are looking to catch a trophy Atlantic Sailfish. It is also the perfect spot to catch Mahi Mahi (Dorado), or big blue Marlin.
Another perfect location to find big-sea fish, be sure to visit Uganda another gem for the fisherman's list of travel destinations!
The Aberdare Mountains, Kenya
Home to some of the best fishing on the whole continent, Kenya has it all. Whether you are looking for sea fishing, or fly-fishing, it's all at your disposal.
After both Rainbow and Brown Trout were introduced to Kenya's mountain streams and rivers, there has been a boom in the fly-fishing scene. You are unlikely to find a more awe-inspiring setting for a fishing trip! Cascading waterfalls and gin-clear water make this the most pleasurable experience you can imagine, but it is paramount you hire a guide as there are potential dangers involved.
Africa offers the tourist or traveller a whole wealth of mouth-watering activities and whether you want a peaceful, relaxing time, or would prefer to go on an all-out adventure, then this continent is for you!
The natural beauty and breathtaking landscapes provide an amazing backdrop for any holiday or escape. You will have one of the most unforgettable times of your life!
Want to learn more about saltwater fishing? Read our educational blog: 
10 Proven and Effective Tips for Successful Saltwater Fishing for Beginners