Travel
Must Visit Road Trip Attractions On The KZN South Coast
Following my KZN South Coast Activities and KZN South Coast Attractions posts back in June/July 2015, this post explores more attractions to be found along the Ugu South Coast municipal region of KwaZulu-Natal. By Des Langkilde.
This road trip can be done in a day but to really enjoy the attractions, I'd recommend staying over for a night or two.
Scottburgh
Scottburgh, just 45 minutes from Durban, is the perfect seaside town to start a road trip from. It is close to other main attractions and has everything – from great beaches with warm water, an all year round temperate climate, excellent golf courses, and great scuba dive sites nearby.
Operated by Dream Vacations, the Blue Marlin Hotel has undergone several major refurbishments to restore this grande dame of South Coast hotels to its former glory. With a history spanning over 60 years, the Blue Marlin has been a family-holiday favourite for generations of local and international tourists alike. It is perfectly positioned overlooking Scottburgh's main swimming beach and tidal rock pool, offers modern 3-star standard accommodation, and a range of facilities that include the Lighthouse Restaurant, the Blue Marlin Bar, an Outdoor Pool Bar, Spa, and Childcare services.
For more information contact Malthee Singh (General Manager) on
+27 (0) 39 978 3361 or email
[email protected] or visit bluemarlinhotel.co.za.
Nature Reserves
Heading out from Scottburgh toward Park Rynie, take the R612 towards Umzinto and follow the signs leading to Vernon Crookes Nature Reserve. This 2,189 ha nature reserve boasts elevated views of the Indian Ocean and wildlife, including zebra, blue wildebeest, bushbuck, blesbuck, impala, blue duiker, black-backed jackal, dassies, mountain and common reedbuck.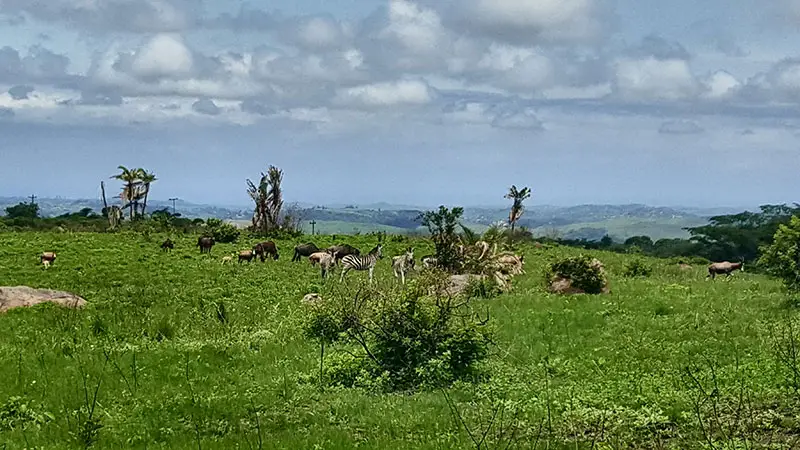 The reserve has over 300 bird species, including grey crowned cranes, crowned eagles, martial eagles, ground hornbills, trumpeter hornbills, secretary birds and black ducks. There are also several picnic sites set amongst the milkwood forest.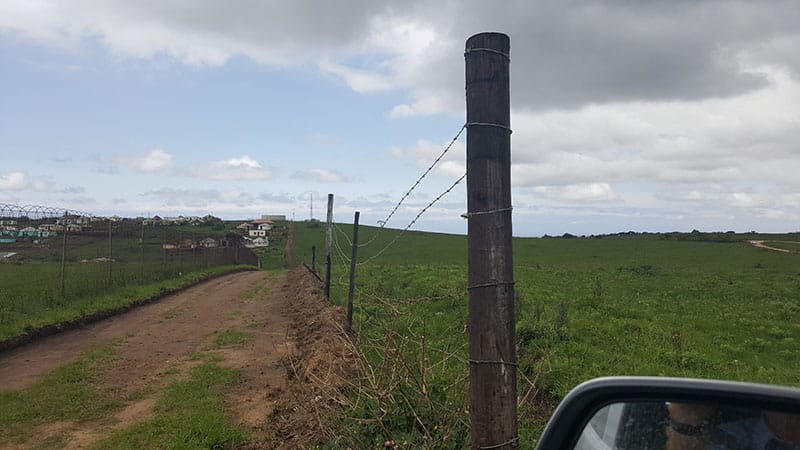 The KZN South Coast has 19 nature reserves and conservancies, however, many have been sadly neglected over the years. At Vernon Crookes, for example, I noticed that the boundary fence has all but disappeared.
For more information visit kznwildlife.com.
Oribi Gorge
Heading back to the coast from Vernon Crookes Reserve, keep driving along the N2 freeway and head inland where the N2 splits at Port Shepstone. Take the right-hand turnoff at Murchison and follow the signs to Oribi Gorge. There's a lot of worthwhile attractions along this route; here are a few of them:
Leopard Rock
Leopard Rock Lookout's restaurant deck overlooks the spectacular Umzimkulu River Valley at Oribi Gorge – a perfect setting for homemade country fare, prepared by hosts Sue and Andries Bruwer.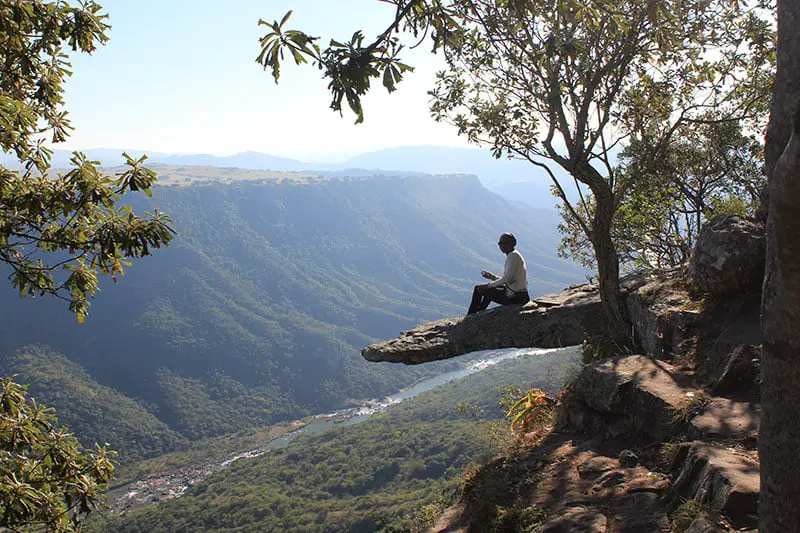 The English breakfast (included in the accommodation rate if you're staying over) is a wholesome serving – it comes with sausages, bacon, eggs, toast, tomatoes – the works! For more information visit www.leopardrockc.co.za or to book call +27 (0)74 124 0902.
Oribi Vulture Viewing Hide
Initiated by BirdLife Trogons Bird Club in association with the landowner and UGU South Coast Tourism, The Oribi Vulture Viewing Hide Project was launched on 8th February 2014. What started as a small bird club project, quickly developed into a full conservation initiative to create awareness of the plight of vultures and to endeavour to change perceptions of this much-misunderstood species of bird.  This project is a not-for-profit voluntary association, with all proceeds going towards the maintenance of this very special site. 
The bird hide, which overlooks a vulture feeding station, offers a 2-hour 'vulture viewing experiences', which must be booked by prior arrangement through the project's website vulturehide.blogspot.co.za or by emailing [email protected]. 
The Gorge Private Game Lodge & Spa
Set on a game reserve within the scenic Oribi Gorge, this elegant, secluded lodge is 14 km before Lake Eland Game Reserve. The Gorge offers villas and suites that provide a deluxe and well-appointed experience, as guests are treated to sheer luxury while they enjoy the glorious vistas in a magnificent setting.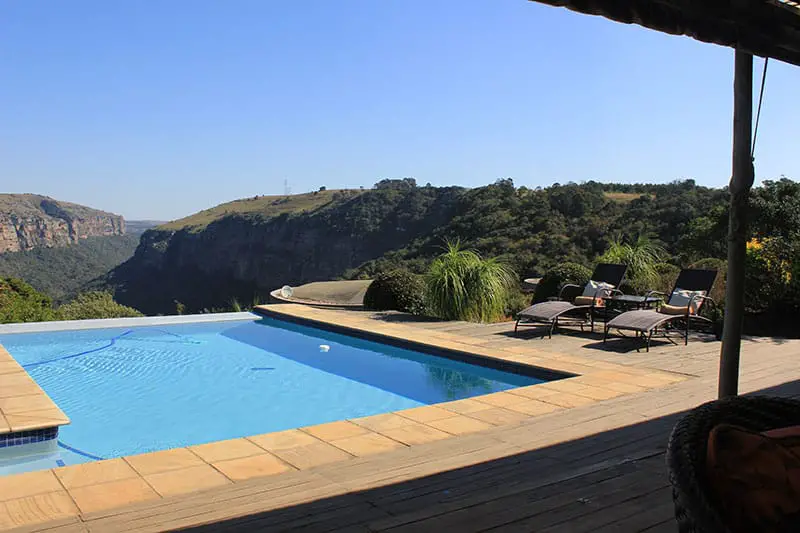 There's also a flagship restaurant, Catharina's on 15, that offers a "field to fork" dining experience that utilizes their own fresh produce and incorporates essential oils crops such as rosemary, rose geranium, sweet marjoram, peppermint, lemongrass and tea tree into the sensory dining experience. For more information visit thegorge.co.za.
Lake Eland Game Reserve
At Lake Eland, there's a lot of activities to choose from including self-drive game viewing of the abundant wildlife and flora or walking across the 80m suspension bridge, as well as their exhilarating Zip Line Tour. There is a day-visitor charge but I guess if you tell the guard you're going to the restaurant (which is pretty good and has great views), they may waive the fee. For more information visit lakeeland.co.za.
Shelley Beach
Heading back to Port Shepstone, take the R61 and the Shelley Beach turnoff just after the South Coast Mall and turn right onto Marine Drive (R620).
About 700m past the Shelly Centre Shopping Mall, just before the Mhlanga River bridge, you'll find African Dive Adventures. Owned and operated by Roland and Beulah Mauz, this highly experienced German couple have been guiding dive groups for shark experiences along the Protea Banks reef for many years and have a wealth of information on the area that they willingly share (read my 'Best Year-Round Shark Diving Site in South Africa' review).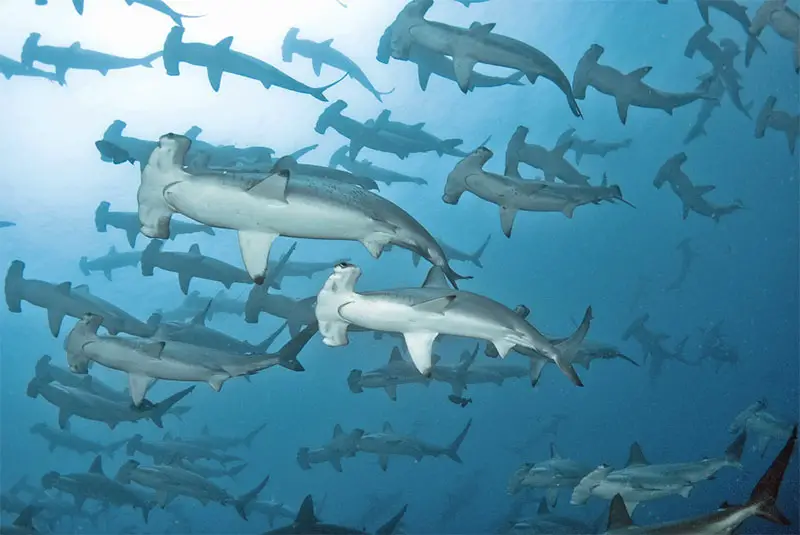 If you're planning a shark dive, I recommend doing that the following day as African Dive Adventures usually does morning dives, meeting at the shop at 7 am and launching around 7:45 am from the Shelley Beach harbour area. Maybe spend the night at San Lameer – see Southbroom below.
For more information call African Dive Adventures on +27 (39) 317 1483 or email [email protected] or visit afridive.com.
Ramsgate
The Waffle House
Continuing the road trip along the R620, my favourite attraction, at any time of the day, is The Waffle House (read my review 'Waffling on about Waffles').
The Waffle House is not just about good food – the ambience created by the location of the venue alongside a small stream, with a picturesque footbridge leading into indigenous forest pathways bordering the Ramsgate Lagoon and leading to the beach, adds to its attraction. The venue is also wheelchair friendly, has free WiFi and a children's play area. For more information call +27 (0)39 314 9424 or visit wafflehouse.co.za.
Pistols Saloon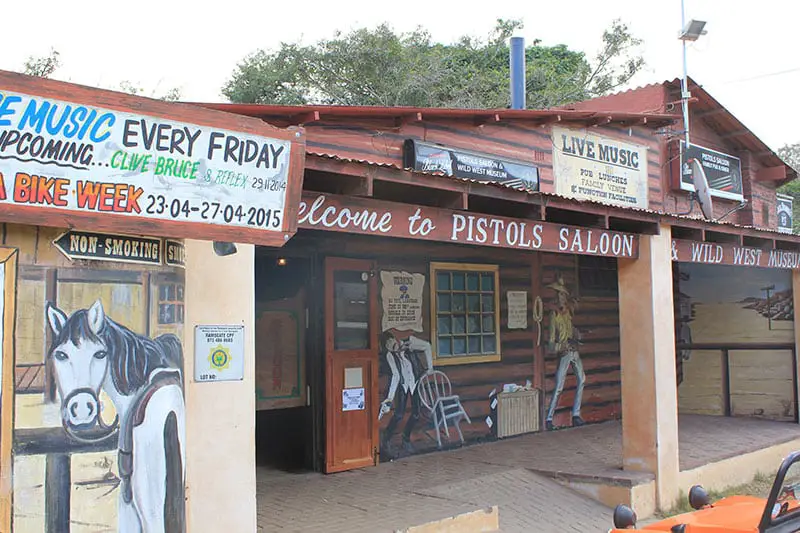 Also in Ramsgate, on Old Main road, you'll find Pistols Saloon. It's really a pub and restaurant but the sheer number of wild-west cowboy bric-a-brac adorning the walls and just about every surface makes this an interesting museum. A regular patron at the bar is Huckleberry the donkey – his party trick is drinking Coke (from the can). For more information visit pistolssaloon.co.za or call +27 (0)82 871 1241.
S'khumba Crafts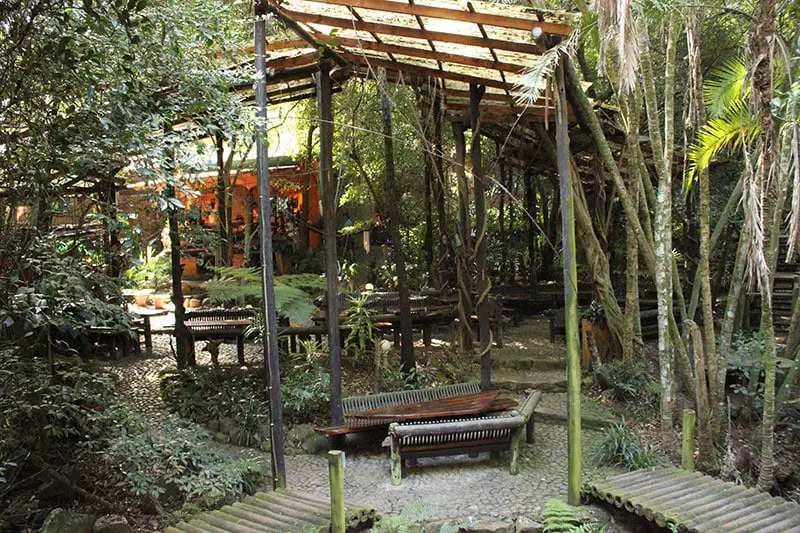 Between Ramsgate and Southbroom, you'll come across S'khumba Crafts. It's a leather workshop, studio and coffee bar situated in an enchanted forest and serves ice cold beer and homemade treats. For more information call +27 (0)39 316 8212.
Southbroom
During my South Coast road trip, I checked-in at the San Lameer Resort Hotel & Spa, as Shelley Beach is a short 10-minute drive from here so I'd easily make my 7 am shark dive appointment the following morning.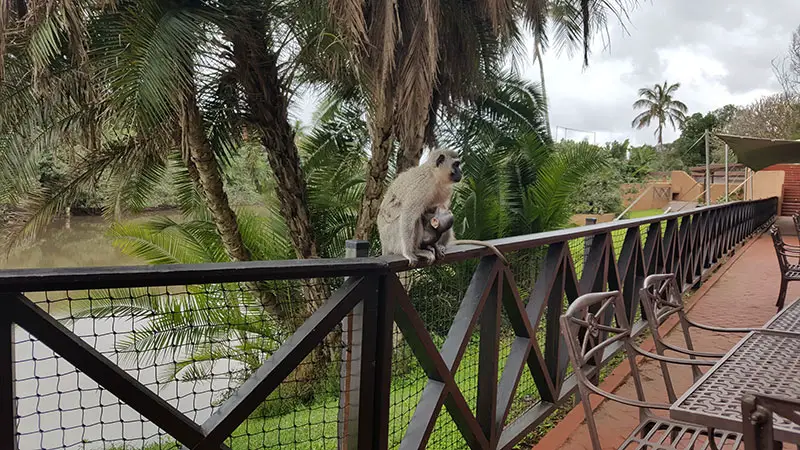 Situated inside an exclusive and secure beach and golf estate, the hotel overlooks a serene lagoon. Inquisitive and opportunistic Vervet Monkeys roam the terraces, so one has to keep a wary eye on them to avoid losing your meal in the dining room.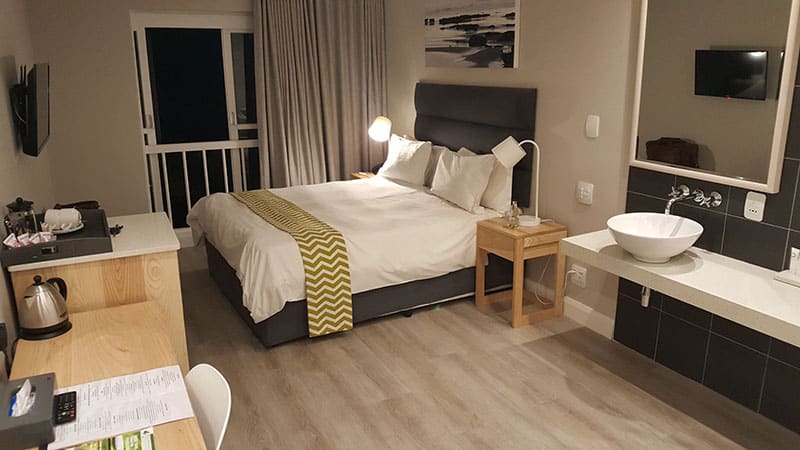 The elegant open-plan rooms, decorated with a contemporary Indonesian style, are well-appointed with en-suite bathrooms, flat-screen television with selected DSTV channels, a mini-bar fridge, and air-conditioning.
For more information call +27 (0)39 313 0011 or visit sanlameerhotel.com
KwaNzimakwe
If you're driving a 4×4 or want to do some mountain biking or trail running, then the KwaNzimakwe Multi-Trails Park is a must-visit attraction (read my review 'Multi-Trail Park and KwaXolo Caves' for more about this attraction).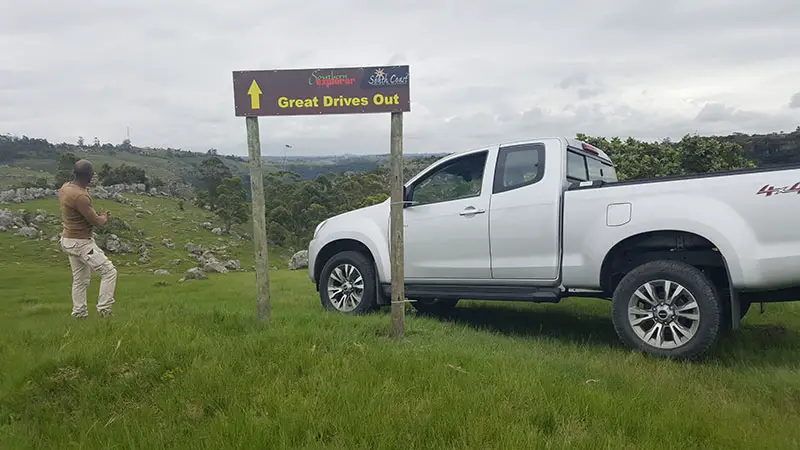 To get there, turn left onto the R61 after leaving San Lameer and take the Louis Botha Avenue turn-off just after the Mpenjati River bridge, and then turn right at the R69 road sign for KwaNzimakwe. You'll have to pre-arrange to meet up with Victor Jaca, the tour facilitator at this newly launched Multi-Trail Park, as facilities have not been built as yet.
For more information call Victor Jaca on +27 (0)63 072 1873 or email [email protected] or visit https://www.visitkznsouthcoast.co.za.
Port Edward
Back on the R61 heading towards Port Edward, Mac Banana cannot be missed – it literally jumps out at you with bright yellow signage on the National Road between Palm Beach and Munster.
Mac Banana
To simply label it as a tourist attraction would be an understatement – it has everything for a family outing – from the Banana Café and Pancake Bar to the largest and food emporium that I've come across. For more information call +27 (0)39 319 1033.
Munster Motor Museum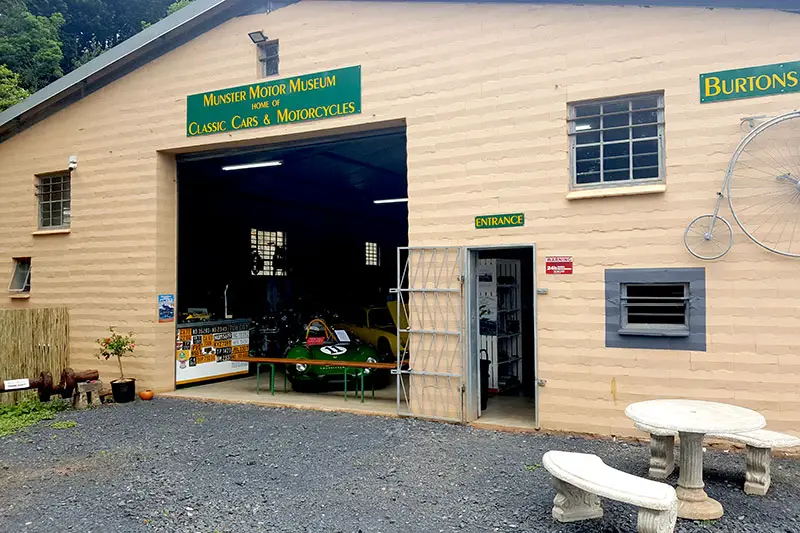 Munster Motor Museum displays all kinds of vintage cars, bikes, and engines from steam through to 4 and 2 stroke internal combustion and rotary engines. There are all kinds of motoring and motorsport memorabilia as well as many interesting pictures.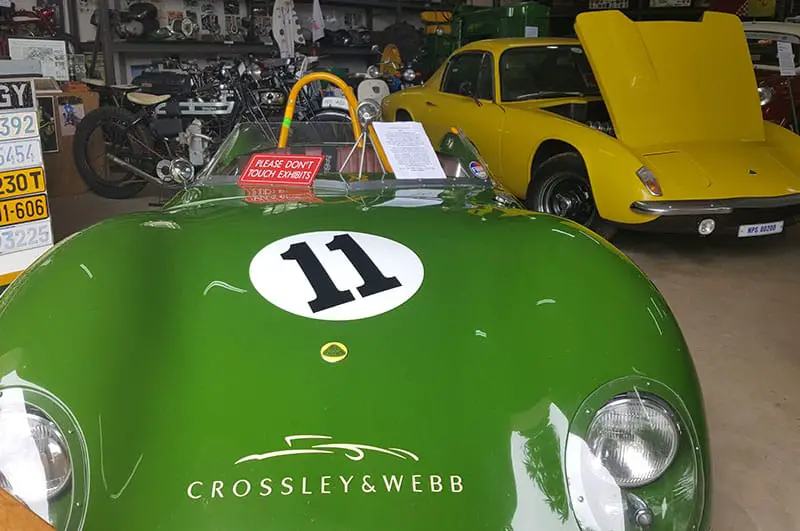 A small nautical section shows off naval and merchant ship models together with illustrated stories of local shipwrecks. There is a large library filled with motor books and magazines dating back to the previous century and glass cabinets displaying model cars from yesteryear. For more information visit classiccarsmotorcycles.co.za.
The Estuary Hotel & Spa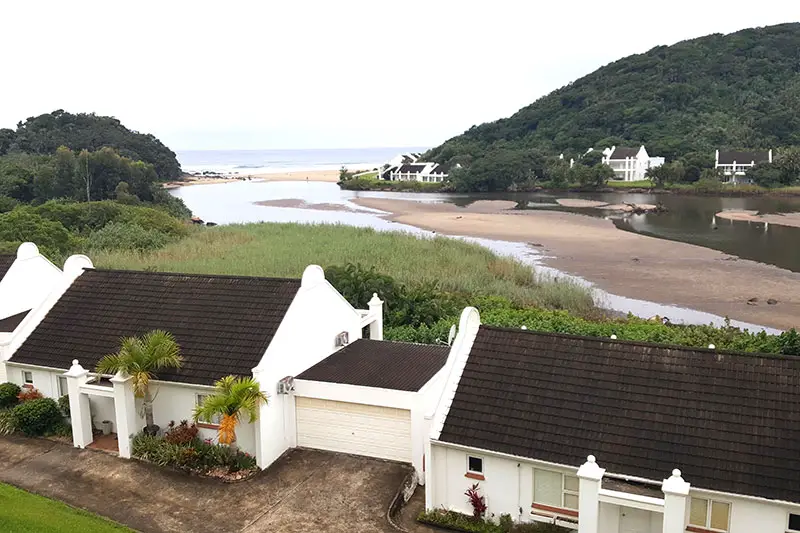 If you need a break from your road trip at this point, The Estuary provides accommodation in 44 luxurious and comfortable rooms, all with spacious en-suite bathrooms with shower and bath that inter-leads to family rooms. The views overlooking the beach are amazing and The Fish Eagle Restaurant is one of the top five dining venues on the South Coast. For more information visit estuaryhotel.co.za.
Beaver Creek Coffee Estate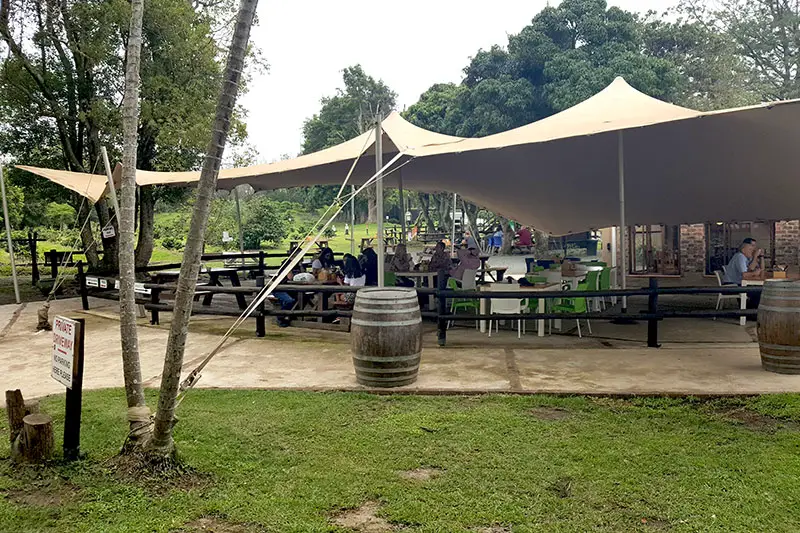 Continuing the journey along the R61, take the Zingoweni Road turnoff to arrive at Beaver Creek Coffee Estate. In keeping with their slogan "Disneyland for Coffee People", you can sample and purchase coffee or take the daily 'crop to cup' tour that outlines the distinctive flavours of the worlds coffee regions and the processes involved in creating the perfect cup.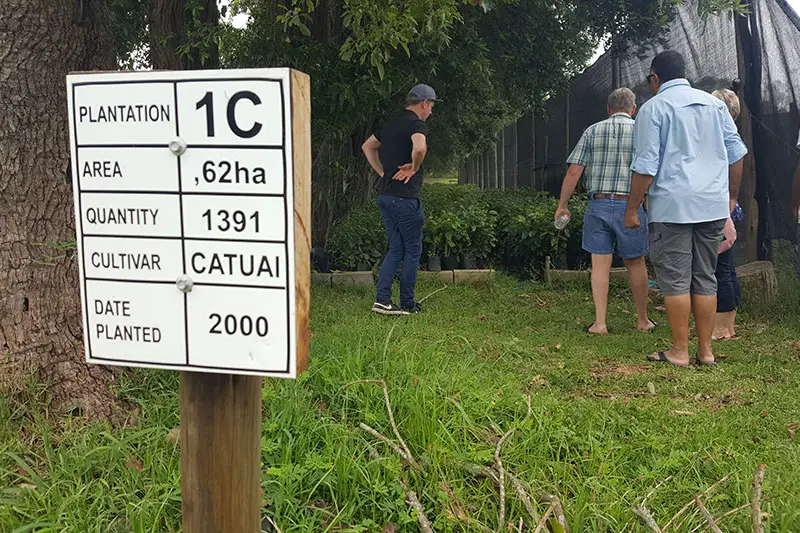 The Estate Cafe serves delicious meals and a range of freshly roasted coffee all day from 8 am till 4 pm while the daily tour starts at 12 noon. For more information visit beavercreek.co.za.
Red Desert Nature Reserve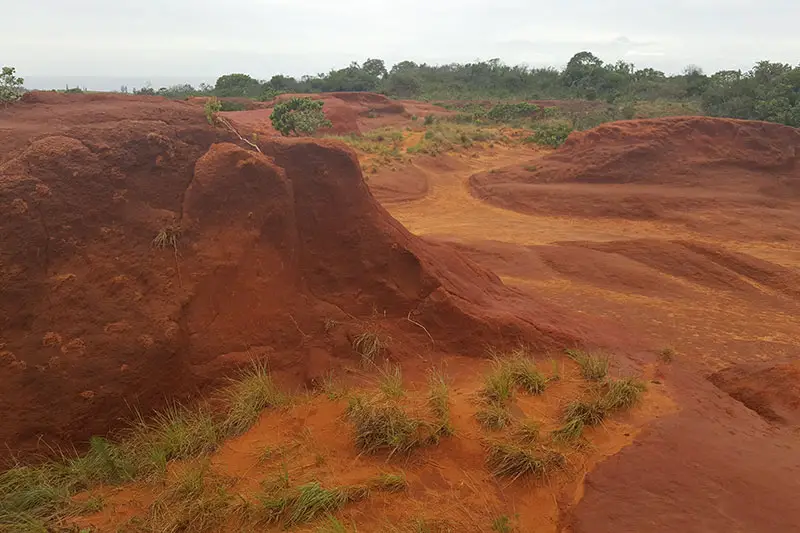 To finish off your South Coast road trip, head back towards the R61 and turn right at Old Point Road (becomes Roy Road further along) and turn left at the T-Junction into Maurice Road. As the world's smallest desert at 200 m in diameter and 11 hectares in its entirety, you can hit the trail on foot or mountain bike and check out the magnificent view over the Umtamvuna Estuary from the clifftop. Clearwater Trails offer walking or mountain biking trips along the Umtamvuna Gorge starting at the viewing deck upriver, and ending at the Umtamvuna Bridge. For more information visit reddesertnaturereserve.co.za.
This brings us to the end of our South Coast road trip, but of course, you could continue your journey and spend a night at the Wild Coast Sun for some gambling. For more things to see and do, visit the Ugu South Coast Tourism website or Visit KZN South Coast website.