Trade News
BRICS Trade Exchange launches in Africa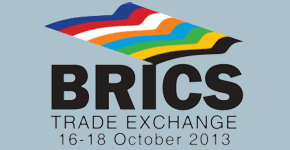 The BRICS Trade Exchange is to be held at the Sandton Convention Centre in Johannesburg, South Africa from 16-18 October 2013.
"The BRICS Trade Exchange is a Business-to-Business (B2B) Trade Fair that provides the ideal platform for facilitating and opening up trade between the BRICS nations, namely Brazil, Russia, India, China and South Africa," says Lydia Botha, Senior Project Manager at Thebe Exhibitions and Projects.
"The aim of this event is to highlight new business opportunities between the BRICS countries," says Botha. "It's the ideal platform for companies, government institutions and business associations from all of the BRICS nations to draw attention to and showcase key investment and trade opportunities to buyers from other BRICS nations."
The BRICS members are all developing or newly industrialised countries, which are distinguished by their large, fast-growing economies and significant influence on regional and global affairs. As a grouping of the most influential developing nations, BRICS aims to expand inter-trade amongst BRICS countries, increasing investment and business opportunities between other BRICS nations and the rest of Africa.
"As the newest member of BRICS, South Africa is the ideal country to host this business-to-business focused exhibition and networking event," says Botha. "South Africa successfully joined BRICS two years ago and provides a gateway for other BRICS nations to introduce and showcase their products and services to Africa."
BRICS Trade Exchange will be a three-day business-to-business trade show and networking platform dedicated to promoting trade and investment between BRICS nations. Dedicated workshops focused on highlighting major investment opportunities from BRICS and South African countries, as well as a hosted buyer's programme, site visits and business matchmaking events – will further increase networking opportunities.
Exhibitors at this event will include companies from a broad range of sectors within the various BRICS nations, including: transport, construction, manufacturing, minerals, energy, petroleum, agriculture, retail, automotive, ICT, telecommunications, textiles and pharmaceuticals. In addition, relevant government institutions, business associations, South African and African companies, export/import consultants, as well as trade and investment promotion agencies will showcase unique investment opportunities.
Exhibitors will have the opportunity to meet targeted local and international visitors who have a vested interest in trading with the BRICS nations, thereby developing lucrative business connections while gaining an early foothold in a burgeoning market.
The BRICS Trade Exchange provides the sort of exposure that will allow these exhibitors to interface and network with local and international industry players, influential decision-makers and senior executives in the trade and investment sector. In addition, high-level speakers will be disseminating valuable, leading edge information in the workshops that will run simultaneously with the exhibition.
According to Botha, Thebe Exhibitions and Projects, through its excellent relationships with relevant stakeholders, is in the process of finalising strategic partnerships with numerous International Government Departments, Trade Consuls, Agencies and Media Partners to promote this exciting new event.
"The BRICS Trade Exchange will go a long way in facilitating further business opportunities between the BRICS countries," says Botha. "It supports the political, economic and development goals and imperatives between BRICS nations by providing a showcase of products and services from all of the BRICS members that can be traded or invested," she concluded.
Companies interested in exhibiting at the BRICS Trade Exchange, should contact:
Lindiwe Nkosi
Key Account Executive
Phone: +27 (0) 11 549 8300
Fax: +27 (0) 11 549 8527
Email: [email protected]