Environment
Environmental Collapse Threatens Vulture Fledgelings
An alarming number of vulture rehabilitation cases have been recorded by VulPro for the months of December 2018 and early January 2019.
VulPro, an NGO that works tirelessly to safeguard Africa's vulture populations through rescue and rehabilitation, reports that most of these cases involved fledgeling of the Cape Vulture (Gyps coprotheres) and African White-backed  (Gyps africanus) vulture species.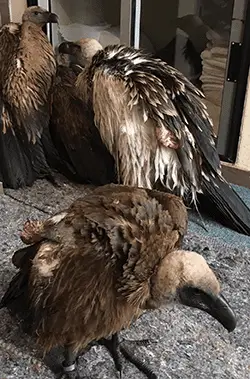 During the month of December 2018, 23 vultures were brought into VulPro for treatment for either dehydration, starvation or calcium deficiency, and in some cases all of the aforementioned.  Since then, a total of 13  birds were collected within just 6 days (more than 2 birds per day!) in January 2019, which indicates a huge disaster looming. 
A large percentage of these birds are young fledgelings that have either left their nest too early or have not had sufficient calcium in their diet. These factors, coupled with climate-change conditions such as extreme heat and lack of available water, as well as insufficient food, are taking a toll on both vulture species.
"It feels as if the whole Magaliesberg fledgeling population is presently being treated at VulPro!," says Kerri Wolter, founder and manager of VulPro.  "For our team, it has been physically exhausting and emotionally draining, requiring long hours on the roads to fetch grounded birds and many hours treating, rehydrating and feeding these birds 24 hours a day. Some have come in with broken bones, dislocated joints, and bent bones, which is a sure sign of calcium deficiency.   Some we have sadly not been able to pull through.  This too has stretched our manpower resources, however, we have a responsibility internationally to safeguard African vultures and will continue to do so."
Cape Vultures are classified as globally endangered with fewer than 4200 breeding pairs left and the African White-backed vulture now uplisted from endangered to critically endangered (IUCN Red List of Threatened Species IUCN 2018-2). These vultures are typically slow breeding, reaching maturity between five and seven years of age and laying one egg a year.   Fledgelings leave the nest towards the end of November, beginning of December.
While the majority of South Africa has been experiencing extreme, above normal, temperatures for the first half of summer together with the continued drought in many parts of the country, this has led to environmental conditions beyond the norm for the young fledgeling vultures. 
"Many of these birds are being found in areas way out of their range – often in urban areas or along highways and busy national roads – extremely dehydrated and more than likely have been without food for up to 10 days.  These birds seem totally disorientated and unless assisted will certainly die.  Lack of water and food is the prime cause for this environmental collapse of these vulture populations.  Very few birds are being collected/found in areas where food supply (known active vulture restaurants) and water is still sufficient," says Wolter.
VulPro is appealing to members of the public to contact them directly should they see or find vultures that are grounded, disorientated or injured. 
The VulPro contacts are Kerri Wolter on 082 808 5113 /  [email protected] or Kate Webster on 082 702 5942 / [email protected].
Furthermore, should anyone be able to supply 'safe' food, VulPro to can assist in establishing vulture restaurants to feed these fledgelings and avoid a complete collapse of the vulture population.  Guidelines in this regard are available from VulPro.
For more information visit www.vulpro.com