Hospitality
HVS Reveals Western Cape Water-Wise Hospitality Research
In response to the ongoing drought experienced in the Western Cape province of South Africa, this article explores various initiatives adopted by the hotel industry in order to mitigate the challenges that water scarcity imposes on water-intensive enterprises.
Through primary research conducted by HVS Cape Town, the authors Tim Smith, Nomfundo Zonke, and Sofie Otto, gathered information on how the industry struck the fine balance in Water-Wise Hospitality. By and large, the anecdotal findings suggest that hotels in the region have embraced the challenges of water scarcity.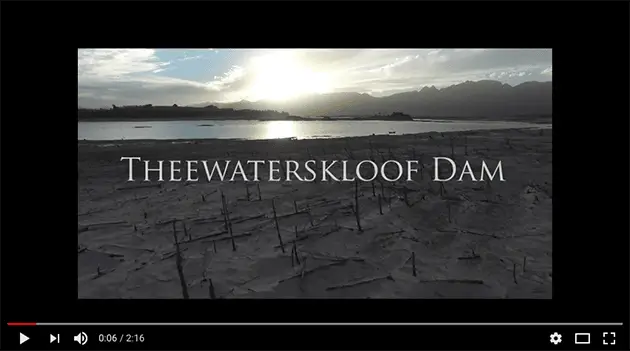 Discussions and Findings
A survey was sent out to over 100 hotels in Cape Town and the Western Cape. From hotels in the CBD where there is no possibility of acquiring a borehole to establishments in the Winelands requiring an increased amount of irrigation for vineyards and others located along the Garden Route facing ecological challenges- many different water restriction scenarios were probed.
Nonetheless, all the respondents stated they comply with the location applicable water restrictions and did not have a municipal water consumption increase month-on-month, even though they are reaching peak occupancy levels at this time of year.
Use of marginal resources
Two respondent hotels were already completely off the grid and another hotel is planning to be fully self-sustainable in the very near future. Even one of the big hotel chains in South Africa has announced that four of their establishments are being considered for off the grid, stating there are discussions currently happening with "various city partners around desalination plants and alternative water augmentation".
There is one lucky city hotel which has a Table Mountain spring running through their property which has been used over 100 years for their laundry, to top up the pool and soon to flush all their toilets. 29% of respondents are not using marginal resources at the moment, but a further 24% have applied to drill a borehole or are actively reviewing the availability of groundwater. Another 18% are mainly investigating rainwater harvesting systems.
The biggest problem with switching to groundwater, as one respondent succinctly put it, is "[the] legal process to register and legally […] use this source of water takes several months, time that we don't have."
Water metering and cost
Through water metering and frequent checks, possible leaks and high consumption areas can be identified and remedied. 76% of all respondents have been able to reduce their municipal water consumption. The One & Only has managed to cut their water consumption by 25% and Spier by over 50% in the last six months. Even Hotel Verde, known to be an environmentally conscious establishment (previously using 65% less water than regular hotels), has managed to decrease their meagre consumption by a further 27.8%.
Two hotels in the city centre are installing water meters and dashboards to closely monitor individual consumption against certain targets.
Even though consumption has decreased, 24% of the respondents experienced an increase in the cost of water to the business, some by up to 20%. The problem is "[w]e are using far less water [but] the price per KL has gone up substantially […] the net result is not cost saving to the business." 18% of respondents, however, did see a decrease in water expense to the business.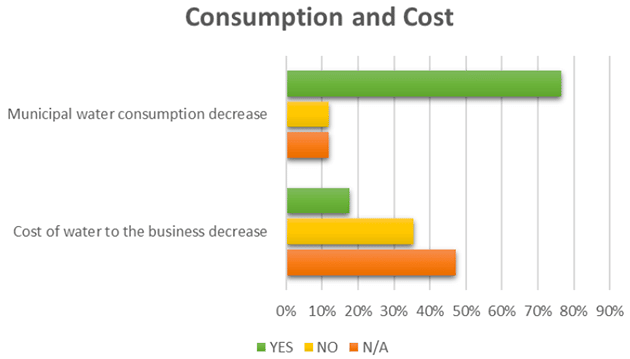 New storage facilities
24% of all respondents have new storage facilities, including 10,000l, portable, static and rainwater tanks and a further 12% are planning on purchasing new/improved storage tanks soon. Tanks can overflow if the electronic warning systems fail but this is far outweighed by the benefits harvesting grey water.
New devices
While over half of the respondents had already installed water saving devices like low flow shower heads in guest rooms, flow restrictors, aerators or sensor taps on all taps in guest and public bathrooms, kitchen and bar areas and waterless urinals. 6% are currently installing some of these devices and 12% are planning to in the near future. Bearing in mind the rising cost of water per kiloliter, perhaps they will have to go further in future. One respondent has purchased an atmospheric water generator that collects water vapour in the air, condenses and filters it to produce potable water. This water is so pure it is then sold as bottled water in the restaurant. Ellerman House in Cape Town even installed a device in every guest shower which counts down and warns guests when 2 minutes are up.
Greywater systems
47% of the establishments who responded to the survey already have greywater systems in place. One of them is a recovery system that utilises the laundry water, for irrigating gardens. Another establishment installed two greywater systems: one that treats and stores water from the kitchen and a number of rooms and is being used to flush public toilets in the banquet area and to water the gardens. The second system recycles swimming pool backwash water for reuse in the pool. Some hotels in the Cape Winelands managed to recycle almost 100% of their grey water to irrigate vineyards and gardens.
Budgetary constraints
The installation of new systems, the purchase of new devices or drilling a borehole are large expenses for businesses and were previously not included in the budget. Two separate establishments stated that they incurred expenses of R250,000 or more over the last six months, which have not shown a reciprocal saving in reduced costs. This substantial investment is, however, sure to prove its worth in a lasting period of drought.
Changed procedures
All the respondents have changed their operational procedures in different ways. In the bar and restaurant area defrosted ice from machines, buckets and fridges are being collected and reused to water the gardens, pot plants or vegetable patch. Sinks to rinse and wash are only filled half way and water used for rinsing fruits and vegetables and dishwashing water is being kept and re-used.
All hotels who use disposable napkins cited reduced laundry as a primary reason. One group of hotels stated that they are even trying to eliminate the use of table linen whenever possible. And one 'sensible' establishment is suggesting saving water by drinking their wine.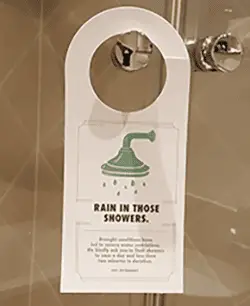 88% of respondents have made changes in the housekeeping department: including purchasing water saving washing machines, only washing with full loads and encouraging guests to re-use their towels and linen. Some establishments have outsourced their laundry or changed over to a more water-wise supplier. The majority of all respondents have removed their bath plugs or added a tag to the plug, encouraging guests to take a shower instead. Ellerman House in Cape Town has made a point of only changing linen and towels every 4th day.
94% of Respondents have made alterations for their pools: covering them to counter evaporation, not refilling them automatically or closing them entirely. Spier has closed 6 of their 7 pools- the remaining one operates from the harvested water. The only problem arises when guests would like to use the pools during hot weather, however, most guests show understanding.
Another establishment says that their steam room is closed to avoid water wastage. Some other interesting practices include planting water-wise vegetation, closing off or reducing pressure on less-used taps inside and outside the building, low-drip irrigation systems under the lawn to reduce evaporation and making use of an environmentally friendly disinfectant called Eco-Lyte that itself is 99% water to reduce dishwashing cycles.
For most hotels, these new practices and procedures are being adopted well by their staff, and the water crisis is being mentioned at every staff meeting.
Insurance and economic policy
Many respondents have insurance or an economic policy for business continuation in place but the question remains: will the businesses be covered under those policies if the drought can be viewed as a natural disaster.
Awareness Campaign
100% of Respondents have water-saving awareness campaigns running for guests and staff via several channels including welcome letters, tip cards, posters, TV displays and during check-in.
However, campaigns can only do so much when they run counter to expectations: "It can be a challenge to [get] international guests to cut back on water use as they view staying at a hotel as a luxury experience and want all of the trimmings," said one Respondent.
challenge to [get] international guests to cut back on water use as they view staying at a hotel as a luxury experience and want all of the trimmings." said one Respondent.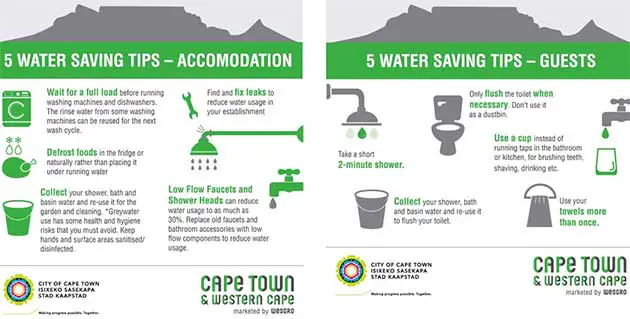 Going forward
Innovation is clearly going to be the deciding factor. How can we give guests more while using less?
Here are some sterling recommendations from Respondents:
"Invest in low-flow fittings and other technology now to reap financial rewards in the long run." – Hotel Verde.
"[…] [S]omething that we can suggest is installing [more] water meters. Not only will this give insight into how much you are using but importantly inform you when you have a leak." – Mont Rochelle Hotel & Vineyard.

"Analyse your operational consumption, focus on habits as this is easy to accomplish, gather data and implement water management project to reduce the high consumption areas. Recycle as much water as you can for alternative uses and communicate continuously without fail." – Spier.
"Start thinking innovatively to come-up with new, fresh ideas to prevent this crisis from extending any further." – Anonymous.
94% of the survey respondents stated that the period of drought has permanently changed their business practices and personal habits. It's these personal habits – small, daily measures by staff and guests – that will make the biggest difference the longer this crisis goes on, but to solve it we'll need world-class innovation.
Wesgro is proud to announce that Cape Town and Western Cape Convention Bureau has secured the International Water Association's (IWA) 2018 Water Loss Conference. Speaking on the subject, Western Cape Opportunities Minister Alan Winde said, "The water crisis presents an opportunity for innovative solutions, and I am looking forward to the recommendations which will emerge from the IWA's 2018 Water Loss Conference."
Implementation of those recommendations won't be left to individual hotels alone: "FEDHASA Cape supports the Western Cape Province and the City of Cape Town's Water Saving initiative, they signed a pledge which will be displayed in their respective properties for all to see and be reminded that Cape Town hotels are doing what's necessary to conserve water. In addition, FEDHASA Cape will also establish a 'Water Task Team' to assist members to, among other things, develop a water wise policy and implementation plan for their businesses, as well as assist with the capturing and monitoring process."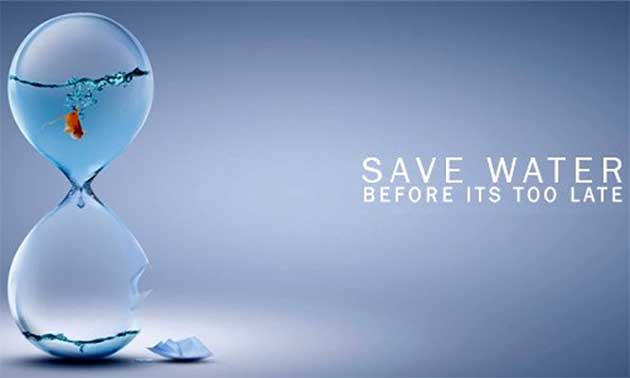 It's time for everyone to pull in the same direction: with the drought heading into its second year, there is no excuse to be wasteful. Learn where you can reduce, save what you can recycle and continue forming habits that respect every drop.
This edited version of the article has been republished with acknowledgement to HVS. The full unedited version can be viewed here.
About the Authors:
Tim Smith, MRICS is Managing Partner of our Cape Town office, focusing on assignments across the African continent. He graduated from De Montfort University with a degree in Estate Management and has worked as a chartered surveyor since 1995, specializing in the valuation and sale of hotels and other leisure property throughout the EMEA region. For further information,  contact: [email protected] +27 (0)79 734 2296
Nomfundo Zonke has been Office Manager for the Cape Town office since June 2016. She is in charge of organizing and coordinating the office operations and ensuring the efficient operation of the office, including utilities. She obtained an Event Organising Principle Certificate from the Cape Peninsula University of Technology and got a Project Management Certificate from Central Business Academy. For further information, contact: [email protected] +27 (0) 83 784 1081
Sofie Otto is a Research Consultant at HVS Cape Town office. She graduated from Granger Bay Hotel School at CPUT, with a B-Tech in Hospitality Management. She joined HVS Cape Town at the beginning of May 2017 and has been assisting the team with organizing THINC Africa and conducting research on various assignments. For further information, contact [email protected]