The Inanda Club walked off with the top honours at the inaugural Club Management Association of South Africa's (CMASA) awards. The awards – in association with the Braxton Group, Jonas, SAB, Tsogo Sun and Performax – took place during the Africa Golf Summit at the Serengeti Golf Estate
Nominations were received from clubs all over South Africa and presented to a judging panel of industry leaders and stakeholders.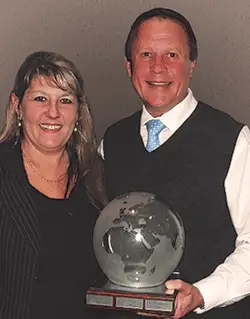 Paul Oosthuizen, who has a wealth of experience in the hospitality industry and has been in the role as General Manager of the Inanda Club for the past 9 years, was voted Club Manager of The Year. The Inanda Club which is situated in Sandton & Kyalami is an equestrian founded club that dates back to the 1930's and has evolved into a world class facility with luxury hotel lodges, prime equestrian land, a Polo Field, conference and banqueting facilities through to fine and casual dining offerings.
"I am extremely honoured to have been awarded with this award, It is always gratifying to be recognised for the effort one puts into this industry. I am really looking forward to attending the CMAA conference in Orlando in February 2017 which is a fully sponsored prize that came with the award, and representing Inanda Club on the world stage" commented Paul Oosthuizen.
Many of South Africa's private recreation clubs are well on track with global trends and meeting the demands of modern families, according to one of the international club and resort industry's most respected voices Mike Leemhuis.
Leemhuis was speaking after recently receiving the Club Management Association of South Africa's (CMASA) first Honorary Membership Award at its inaugural CMASA (Club Management Association of South Africa) Annual Awards ceremony during the Africa Golf Summit at Serengeti Golf Estate. Leemhuis, a South African who is now President of the exclusive 4000-member Ocean Reef Club in Florida and who previously was General Manager/COO of the 3000-member Congressional Country Club, delivered two presentations at the recent summit.
The CMAMSA Award not only acknowledges those people who go the extra mile, but also creates a focus on service standards in the industry, ensuring the expectations exceed those members and guests.
For more information visit www.clubmanagement.co.za