Trade News
Launch of Austrian Menu: Sinn's on Long
SINN'S ON LONG: THE CITY'S ONLY AUSTRIAN RESTAURANT NOW OPEN
CAPE TOWN, SOUTH AFRICA, 14 November 2013: Sinn's on Long, the only restaurant in the CBD that serves rustic Austrian fare, has opened its doors. Run by Chef Thomas Sinn (you will recognise his name from his successes at Buitenverwachting Restaurant, Blue Danube Restaurant and Sinn's Restaurant) this restaurant promises to be one-of-a-kind in Cape Town central.
"With the abundance of burger and fast food franchises, I wanted to create something completely unique and with a strong identity," says Thomas Sinn, owner, chef and native Austrian, "and on returning from my recent visit to Austria I realised that the key lay in returning to my roots. So I've created an authentic Austrian restaurant, with a great country, rustic style menu."
Thomas, initially trained and apprenticed by some of the top restaurants in Austria, came to South Africa in 1988 to open Buitenverwachting Restaurant in Constantia as Executive Chef. His career has seen him presented with multiple top awards over the years, including:
Diners Club Wine list award from 1997-2011
Tony Jackman's Top 10 in the Cape
American Express Fine Dining Award
Eat out 2000 by Lannice Snyman – Top 10 in the Country
Eat out 2001 Chef Roll of honour
"Schnitzel, goulash soup, bratwurst, eisbein and German sausage are some of the delicious favourites you'll find on the menu. Sweet treats include crème brûlée, apple strudel spring rolls and hot chocolate dumplings," continues Thomas. "We hope to bring variety and inject new life into the Loop Street cuisine profile, and offer guests something different and fresh to choose from."
Sinn's on Long provides everything from light meals and tapas, to luncheons, dinners and late night cocktails. The adjacent deli and coffee bar offers artisan organic coffees, plus premium Italian ice cream and soft serve with delectable toppings.
Late night entertainment from the resident DJ keeps things pumping from Thursday to Saturday between 10pm to 2 am and regular Ladies Nights ensures that the only thing 'old school Austrian' about Sinns on Long is the menu selection.
Located on the popular Long Street strip Sinn's on Long promises to be the perfect venue all year round.
To contact Sinn's on Long: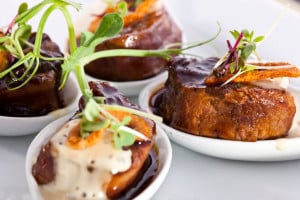 Tel +27 21 422 1155
Email [email protected]
Facebook: www.facebook.com/sinnsonlong