Transport
The New Nissan LEAF Electric Vehicle
Tenerife, Canary Islands (January 15, 2018) – In just three months since the new Nissan LEAF was announced, Nissan today revealed that it has already received over 12,000 orders for the latest model. That is one sold every 12 minutes in Europe.
According to Nissan, the new LEAF is the next generation of the world's best-selling zero-emissions electric vehicle. A claim that is substantiated by more than 283,000 customers who have chosen the first-generation LEAF since it went on sale in 2010. And now, this all-new model offers even greater range, improved dynamic design, class-leading advanced driver assistance technologies and enhanced connectivity.
Philippe Saillard, Senior Vice President, Sales and Marketing, Nissan Europe, commented: "The new Nissan LEAF is the most advanced and accessible 100% electric vehicle. It is also the icon of Nissan Intelligent Mobility, our blueprint for a future in redefining the way customers drive and how vehicles are powered and integrated into society. This is a car that is more enjoyable, more connected and more exciting to drive than any other mainstream electric vehicle in history. It is simply amazing."
Following the new LEAF's European debut at the Nissan Futures 3.0 event in October, the car has already created unprecedented levels of interest amongst both new and existing electric vehicle drivers. To date, customers have ordered more than 12,000 new Nissan LEAFs, even though it does not arrive at European showrooms until February 2018.
A new way of thinking
The Nissan LEAF is a whole new driving experience, designed to move people with greater exhilaration, confidence and connection to the world around them.
Nissan's Intelligent Mobility is a consumer proposition that encompasses three main pillars; Intelligent Power, which is brought to life through the LEAF's advanced new 40kW e-powertrain, with improved energy efficiency, increased torque and power output for more exciting driving; Intelligent Driving, which is technology designed to improve driving confidence, enhance safety and reduce stress; and Nissan Intelligent Integration, the linking of the car to wider society via connectivity and to energy grids via unique bi-directional charging technology.
Much more than just a 100% electric vehicle, the new Nissan LEAF is a mobile power unit, allowing customers to manage their energy use either through home or office solutions.
Stylish design, ready for mass market love
With an overall length of 4,49m, a width of 1,79m, a height of 1,54m and a wheelbase of 2,70m, the new Nissan LEAF also features a sleek profile, sharp, dynamic look with excellent aerodynamics, and a coefficient of drag (Cd) of 0.28. Anyone familiar with Nissan design will recognise the signature boomerang-shaped lamps, 'V-motion' front surround, while the blue elements such as the front grille and rear bumper's moulding highlight the 100% electric, zero-emission character of the car.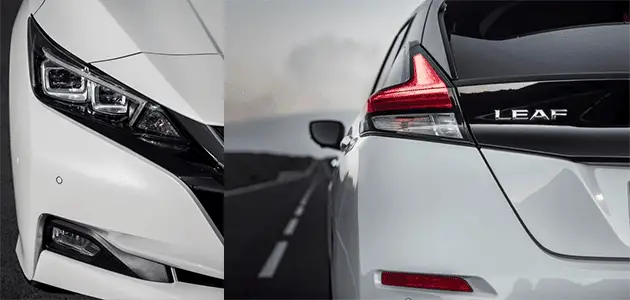 It is available in the following 10 exterior colours: Arctic Solid White, Solid Red, Bronze Metallic, Gun Metallic, Spring Cloud, Blade Silver, Magnetic Red, Pearl White, Metallic Black and two-tone with Pearl White body & Metallic Black Roof.
Driver-centric interior
The new Nissan LEAF has a completely redesigned interior, which is focused on the driver and combines a clever use of space with optimum functionality. The 'gliding wing' design features vibrant blue stitching in the seats, dashboard and steering wheel, creating a relaxed ambience and high-quality feel. A 435-litre boot and foldable 60/40 split rear seat offers impressive storage options and maximum utility, making the new Nissan LEAF a perfect family car. Maximum luggage capacity with folded seats is 1,176 litres.
Greater range, more excitement
The new e-powertrain in the new Nissan LEAF delivers 110kW of power and 320Nm of torque, improving acceleration to 7.9s from 0 to 100 km/h, at the top of c-segment performance. The new Nissan LEAF has a range of 378 km NEDC (pending final homologation). Additionally the New Nissan LEAF is the first EV to undergo WLTP*, allowing customers to drive up to 415 km in city conditions on a single charge. This test reflects real life situations more accurately. This means drivers can enjoy longer journeys, interconnected by the extended European CHAdeMO Quick-Charging network.
Charging time from alert to 80% (quick charging – 50kw) takes 40 to 60 minutes, while it's of 7,5 hours from alert to 100% with a 7Kw Wallbox.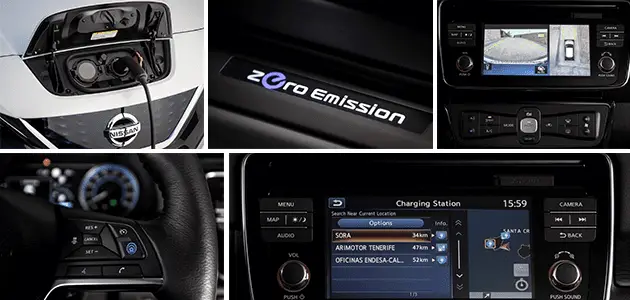 Advanced safety features
The new Nissan LEAF offers drivers complete confidence when it comes to safety. Standard features from entry grade include six airbags (front, side and curtain), ISOFIX hook, Anti-lock Braking System (ABS), Electronic Brake force Distribution (EBD), Brake Assist (BA), and Hill Start Assist (HSA). Traffic Sign Recognition and Blind Spot Warning are also standard from Visia grade, as is Intelligent Emergency Braking with Pedestrian and cyclist Recognition.
Advanced safety technology systems such as Lane Departure Warning, Intelligent Lane Intervention and Rear Cross Traffic Alert are also part of new Nissan LEAFs standard equipment.
Advanced driver assistance technologies
The new Nissan LEAF is packed with Intelligent Mobility innovative technology, including ProPILOT driver assistance for a safer, more comfortable drive and ProPILOT Park, for fully autonomous parking at the touch of a button.
ProPILOT is designed for use within a single lane on a highway, and is optimised for use in heavy traffic jam or in high-speed cruising scenarios
The driver can activate ProPilot as easy as a conventional cruise control by setting a desired cruising speed and distance. Supported by Radar and Camera, ProPilot will adjust the speed to traffic ahead and keep the car in the centre of the lane. It even manages traffic jam situations making the daily commute more relaxing and reducing fatigue.
In traffic jams, applying the same technology logic, ProPILOT will automatically manage distance to the car in front and apply the brakes to bring the vehicle to a full stop if necessary. After stopping, the vehicle will remain in place even if the driver's foot is off the brake. Once traffic restarts, the car will resume driving again automatically. If the traffic stops for over 3 seconds, ProPILOT will restart at a simple touch of the accelerator or by pressing on the steering wheel. 
ProPILOT Park is hands-off, feet off automatic parking function. ProPILOT Park works with parallel and bay parking (forwards or backwards entry), and will easily park the new Nissan LEAF when the driver selects one of the spots proposed by the system. By pressing the ProPILOT Park button, the new Nissan LEAF will fully manage the parking actions and automatically apply the parking brake when the manoeuvre is complete.
For an animation demonstrating Nissan's ProPILOT technology in the new Nissan LEAF, watch the video clip below:
The e-Pedal
The new Nissan LEAF's revolutionary e-Pedal technology transforms the way people drive by enabling acceleration, deceleration and full stop with the simple increase or decrease of the pressure applied to the accelerator. By releasing the accelerator, the car will decelerate and come to a complete stop, even hill holding, without the need to press the brake pedal. With a deceleration rate of up to 0.2G, the e-Pedal eliminates the need for drivers to constantly move their foot from the accelerator to the brake pedal to slow down or stop. This helps reduce fatigue and stress in daily city driving, allowing the driver to use the brake pedal up to 90% less than in conventional cars.
Outstanding Infotainment
The new Nissan LEAF's improved 7 inch, full-colour (TFT) display highlights key features, including information from the audio and navigation systems.
The Latest version of the Nissan Connect EV Navigation System includes Bluetooth connectivity and DAB Radio. In addition to standard Navigation features it also includes real-time information on the nearest charge points.  Apple CarPlay and Android Auto are also available for enhanced connectivity (depending on market).
One of the most popular features in the original LEAF is the ability to set the car's climate control to activate at a particular time, warming the car up or cooling it down before beginning a journey. This allows customers to save battery charge by warming or cooling the car from the mains supply while it is charging.
Customer choice – grades and options
The New Nissan LEAF is available in four grades – Visia, Acenta, N-Connecta and Tekna.