Mercedes-Benz never does things in half measure.  In keeping with the brands' prestige image, the launch of their new X-Class  – a contender in the upper-end of the South African double-cab bakkie segment – was a two-day extravaganza of epic proportions. By Des Langkilde.
Like the vehicle itself, the launch was meticulously researched and purpose constructed, from the venue in the midst of a recently cleared swath of commercial forest on Louvain Guest Farm near George to the boma enclosure with 3-metre high gate, the X-Village 'glamping' site, and the delectable cuisine prepared by the celebrated South African Chef, Bertus Basson.
The Mercedes-Benz "X-perience" set out to convince guests that the X-Class would exceed expectations both on and off the road. To prove their point, an obstacle course aptly demonstrated the electronic switch from rear-wheel drive to 4MATIC and "Low" all-wheel mode by activating the automatic low-range gearbox and the differential lock on the rear axle. In fact, on steep descents, the vehicle takes over from the driver to better control forward and lateral sliding.
The X-Class's high lateral dynamics and multi-link wheel suspension with coil springs on the rear axle proved that this bakkie can handle Cambre angles of up to 49.8o.

The X-Class's 222 mm ground clearance handles dongas and rocky terrain with ease.

A 4×4 trail, chosen along a seldom-used scenic ox wagon route over the Outeniqua Mountains proved that the X-Class provides luxury comfort over the roughest of terrain.
Inside the cab, in addition to voice control, the tablet-style screen is controlled from the cleverly designed touchpad unit situated between the front seats, which provides a host of features including infotainment, navigation and communications.
Unique features include 360° cameras, which show the area surrounding the vehicle – both from a bird's-eye view and from below the window line. Rather handy for off-road driving, although I found the visuals to be disconcerting as digital rocks and potholes look more severe than they really are. The LED headlights provide excellent visibility with an improved illumination of the road ahead when compared to conventional halogen headlamps.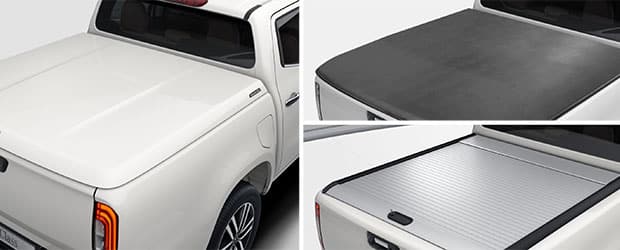 The back-end of the X-Class double-cab bakkie comes with a range of accessories for covering the bin, including a must-have moulded plastic bed liner, colour matched canopy, hardcover with automatic LED lighting, water-repellent soft cover, or an aluminium roll-over cover.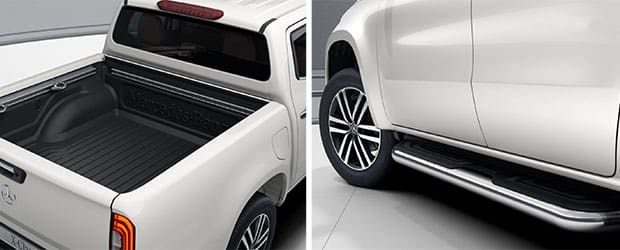 Overall, Mercedes-Benz has come up with a winner – off-road durability combined with comfort and style.
FAST FACTS: X-Class 250 d 4MATIC 4×4
[box type="shadow" align="aligncenter" ]Price (2018): R 723,811.00 (Incl VAT & CO2 Tax) Engine: 2.3 litre, four cylinder, turbodiesel Transmission: 7-speed automatic Maximum power: 450kw @ 3750 rpm Maximum torque: 140nm @ 1500–2500 rpm Fuel consumption: 7.9 l/100km (claimed) CO2 emissions: 209 g/km Top speed: 175 km/h Acceleration: 11.6 seconds (0-100km/h) PremiumDrive: Complete maintenance plan[/box]
For more info visit mercedes-benz.co.za