Trade News
The Robertson Small Hotel takes the grill to gourmet heights
Reuben & Co flexes braai-ceps with new tong tricks for Braai Day
Want to ignite the gourmet side of the grill? The Robertson Small Hotel adds a tantalising twist to the ultimate South Africans pastime when this 5-star luxury retreat gathers the tongs for a fired-up Smackdown at The Small on Saturday, 7 September.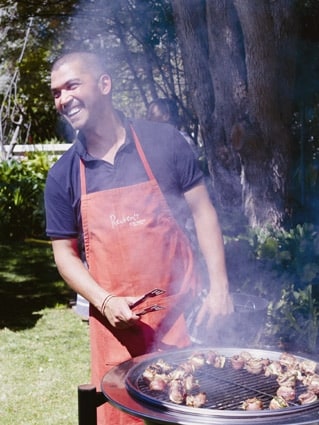 Even seasoned 'braaistros' need to brush up on their skills now and then and in preparation for National Braai Day (on 24 September), celebrity chef Reuben Riffel and the hotel's Executive Chef, Tiaan van Greunen, will be sharing smoking hot braai secrets and guide foodie firebugs through the art of gourmet grilling.
"This interactive 'braai boot camp in the heart of the Breede River Valley' is more than just about throwing meat on the coals. It is about celebrating South Africa's common heritage and honing your skills to ensure a blazing success, every time you light that fire. We will show you how to take a backyard barbecue to gourmet heights," explains Tiaan.
Meat aficionados and vegetarians are in for a sumptuous treat and a few 'local is lekker' surprises when the chefs add their own sizzling spin on this ubiquitous South African style of cooking with unique main and side dishes straight off the grill.
Guests will tuck into a delicious spread ranging from savoury appetizers to caramelised, flame-kissed dessert delights – all and all a four-course fire and smoke inspired feast not to be missed.
Enthusiasts will also be able to flex their own braai-ceps on the day during a team cook-off when each group will have to create a braai-based starter from a mystery box of simple ingredients.
And where there is smoke and fire, there must also be an infusion of refreshing libations. The emcee for this jovial gathering, Susan Cashin – a certified sommelier – will showcase pioneering new research into food and drink pairings. She will engage one and all in a fun-filled tasting experience that will present a range of beverage offerings from aperitifs and artisan beers to cocktails and wines unique to the area.
The exclusive Smackdown at The Small adventure costs R485 per person and includes the four-course lunch and wine on the day. The event starts at 12h00. Seating is limited and bookings are essential.
The chic Robertson Small Hotel also invites guests to extend their Breede River sojourn and linger a little longer in its charming company. A booking for a two night stay at the hotel during the weekend of the Smackdown at The Small, earns one a complimentary ticket to the event.
To reserve your Smackdown at The Small ticket or for more information regarding its accommodation packages contact The Robertson Small Hotel at Tel: (+27)23 626 7200 or email [email protected].
The Robertson Small Hotel is located at 58 Van Reenen Street, Robertson, Western Cape.