Mantis Community Upliftment Programme invests in grassroots golfing
Port Alfred, 27 May 2019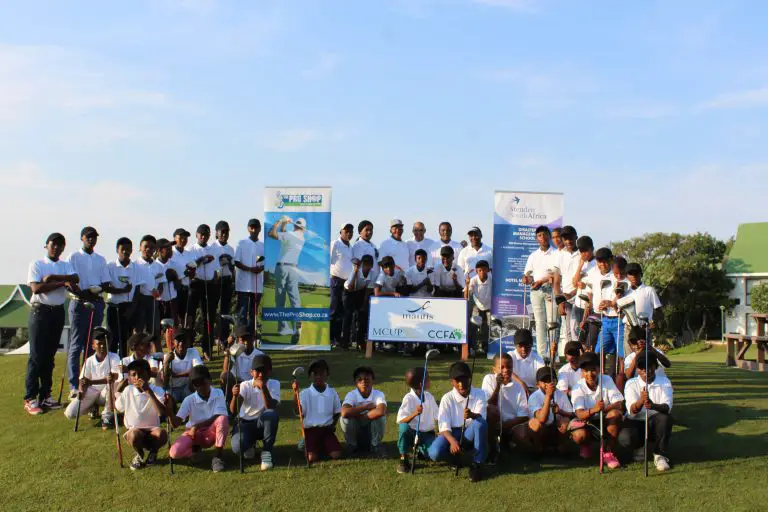 The Mantis Community Upliftment Programme hosted the first Youth Golf Development at Fish River Resort this weekend from Friday 24th to Sunday 26th May 2019. Forty young golfers from the township of Port Alfred arrived with their coach, golf pro, Collin Mavuso who was accompanied by the executive committee of the Namato Golf Club, which is an association of veteran golfers originating from the townships and farms around Port Alfred. These golfers seek to further the reach of golf in the townships around Port Alfred and the farming communities of the Sunshine Coast.
Collin Mavuso is a golf pro currently on tour who gave up his spot in the Seniors Tournament taking place in Port Elizabeth this weekend to accompany his 40 mentees to Fish River Resort. He spends his weekdays running the Port Alfred Driving Range at Rosehill Mall; a venture he entered into with Dr Wouter Hensons three years ago. The driving range became a seed of hope in the golfing community of the disadvantaged areas around town and which is kept open by the generous sponsorship of Dr Wouter Hensons. The young aspiring golfers walk from the township to Rosehill Mall on a daily basis to pursue their passion for golf, for some this can be a 12km round trip, which is why Collin strives to provide the golfers with at least one meal to ensure that they never practice on an empty stomach.
The partnership between Stenden South Africa and Collin has gone from strength-to-strength; with Stenden's relationship with Mantis and Fish River resulting in the Mantis Community Upliftment Golf Youth Development weekend.
"We have enabled disadvantaged children to gain access to the game of golf; a sport that teaches teamwork, integrity, and discipline. The daily work that goes into growing good sportsman is a thankless task which Collin has taken on passionately. He is an unsung hero who is changing the culture of golf in the Eastern Cape one child at a time." – Dr Wouter Hensons, Executive Dean of Stenden South Africa
The young golfers arrived at Fish River on Friday afternoon in a whirr of excitement which was made more electric when they received their goodie bags stocked with snacks and a golf shirt. Walking through the vast, beautiful spaces of Fish River Resort completely awe-struck; the youngsters (ranging from 5 to 16 years old) were overwhelmed with excitement and gratitude as they settled into the weekend accommodation.
"Watching these young golfers enjoying our facilities was heartwarming. The discipline that Collin Mavuso has imparted is evident in their behaviour as young sportsmen. They showed the utmost respect to my team and our facilities while enjoying everything we offered them to the maximum" – Ashley Palm, General Manager of Fish River Resort
Mr Elroy Taai from Stenden South Africa hosted a workshop for the young sports people; imparting skills on personal conduct and good sportsmanship. After dinner, each night ended with a magic show which had the young eyes as wide as golf balls as the Tabua venue at Fish River echoed with gasps and laughter.
It was the first time any of the children stayed in a hotel, and the weekend was filled with many firsts centred around learning the culture of golf. Collin Mavuso hosted golf clinics and workshops; imparting some of his 30 years of wisdom in a formal setting that is quite different from their usual daily training at the Port Alfred driving range.
Further to the training; the children also took part in their first tournament on an 18-hole golf course and for the majority of them; the weekend stay at Fish River was their first touristic experience. The winners walked away with fantastic prizes comprising golf equipment and one lucky young man, Othimna Matiwane, won the Mantis prize for most potential and was awarded a full junior membership at the Royal St Andrew Golf Club along with a set of clubs, balls and gloves. Upon departure, each player received a Hygiene Pack to assist them to fulfil the grooming lessons imparted to them by Collin and other leaders.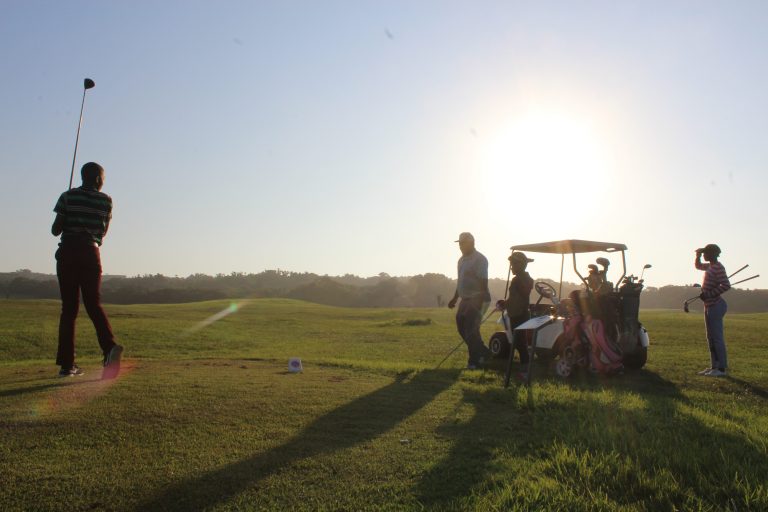 The Mantis Community Upliftment is being run from Fish River Resort on the Sunshine Coast, sponsored by Mantis Collection, Community Conservation Fund Africa, and Stenden South Africa.
MCUP is also running two free 5-day hospitality training courses at Fish River from the 1st – 12th July 2019, aimed at unemployed youth in the vicinity around Fish River and Prudoe. The course will be facilitated by Stenden lecturers and is sponsored by Mantis and CCFA who will grant all those who complete the full 5-day course with a R150 travel allowance and meals.
The Mantis Community Upliftment Programme is working with children and unemployed youth in the Eastern Cape to better their chances at economic participation.
If you would like to support the Youth Golf Development and Namato Golf Club, please contact Di Luden at [email protected] or call 0027 41 404 9300.