Trade News
2018 Toilet Tourism Awards Open For Entry
THE 2018 International Toilet Tourism Awards are now open to submissions from tourism destinations that want to wipe the floor with the competition.
After many years analysing tourism trends, the awards' creators and owners, MyTravelresearch.com, aim to show tourism destinations that clean, creative, quirky public toilets go a long way to boosting a destination's image and generating tourism revenue. People stop to spend a penny and end up spending more.
The 2018 awards were announced open on 14 February at the Southern Highlands Welcome Centre in Mittagong, New South Wales — the destination that won Best Economic Contributor in the inaugural awards last year.
2018 International Toilet Tourism Award Categories
The 2018 awards will go to public toilets in the following categories (7):
• Best Economic Contributor – for when people stop at a toilet in a destination and stay on to spend more than a penny.
• Best Location – where the toilets have views and may be considered an attraction in themselves.
• Best Design – architectural brilliance in toilets, visual design and creativity.
• Quirkiest Toilet Experience – relating to local heritage, fun, or otherwise noteworthy.
• Best Accessible Toilet – supporting the idea of Tourism for all.
• Sanitation Progress – aimed at developing economy destinations that have made big steps in public toilet provision.
• Overall Commitment – to Toilet Tourism.
Entry Form
Click on the toilet roll below to go to the entry form. Or click here.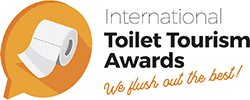 Officially opening the 2018 awards, Carolyn Childs, co-founder of MyTravelResearch.com and the awards, told attendees: "More smart destinations around the world are waking up to the power of the loo as a promotional statement. There are brilliant examples around the world. We want to recognise the best of them for a job well done."
Good Loos a Tourist Attraction in Their Own Right
At the launch event, Manager Tourism & Events, Destination Southern Highlands, Steve Rosa, said: "It's fair to say our loos have become a drawcard in their own right since our win last year."
Childs said the public loos at Destination Southern Highlands were indicative of the transformation destinations can make when they take pride in their public conveniences.
For example, the Southern Highlands Welcome Centre toilets were refurbished in late 2015 as part of a major overhaul of the centre. Today the toilets include a bright colour scheme, posters, audio reel, quirky fact stickers and free Wi-Fi. In recent weeks the centre added a bright mosaic entry wall to the loos.
Rosa told the audience that since the revamp of the centre's "toilet experience" product sales at the welcome centre's shop have increased by 20%. "The appeal of our toilets has allowed us to divert visitors into our information centre where we have been able to educate, motivate and sell them products. They also make hotel, restaurant and activity bookings there. It has given us an opportunity to disperse more visitors around the Southern Highlands and keep them longer."
Key Dates
• 14 February 2018 – Entries Open
• 01 May – Entries Close
• 04 June – Winners Announced
Prizes
The overall winner will receive an AU$2000 donation contributed to the World Toilet Organization for allocation to a sanitation project in a developing economy. The donation will be made in the name of the overall winner, who will also receive a copy of every MyTravelResearch.com research publication in 2018 (worth AU$8000), and access to tourism research events. Other category winners will receive the same, minus the donation to the World Toilet Organization.
No Entry Cost for Toilet Tourism Awards
The 2018 International Toilet Tourism Awards are free to enter. Destinations or toilet owners simply fill out an online form and submit it before the closing date of 1 May 2018. Winners will be announced 4 June 2018.
A judging panel drawn from the tourism and toilet provision sectors will be announced shortly.
Editor's note: I hope that Journeys Namibia enters Hoada Campsite at Grootberg Lodge in Namibia's Khoadi /Hoas conservancy in the 2018 Toilet Tourism Awards. Their toilet, hidden among large grey granite boulders is unique.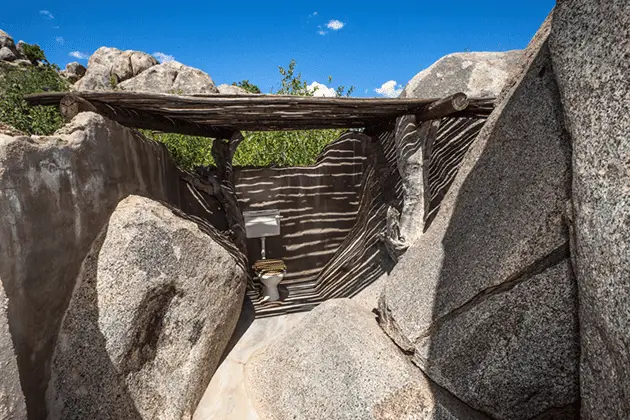 Thinking of toilets and Namibia, Gondwana Collection's satirical response to US President Donald Trump's alleged remarks that African countries are "sh*tholes" seems relevant.