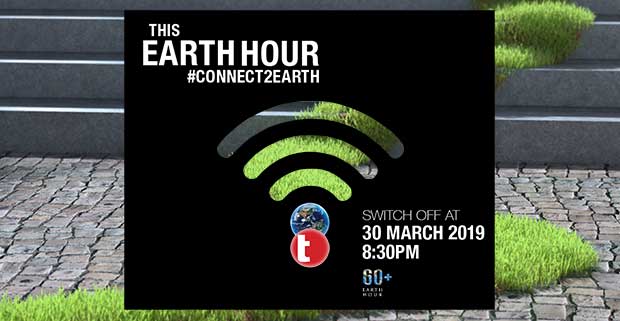 This year, Earth Hour falls on Saturday 30 March and the initiators of the #Connect2Earth global campaign – WWF has partnered with United Nations Convention on Biological Diversity (CBD) to create connect2earth.org.
Hotels are urged to participate in the #Connect2Earth campaign via the new connect2earth.org platform, which has been designed to share ideas and tools to push for action and change. Open source assets can be downloaded and used for your Earth Hour activities as well as for other future events.
What can hotels do to help?

There are lots of things you can do to show your support on and around the hour. Hotels have a wonderful opportunity to engage further with their guests and provide a really unique experience around Earth Hour.
Take part in Earth Hour! Check out https://www.earthhour.org/ to find out more about the event.
Put up posters in your hotel! Working files are also provided so you can customise the posters to better engage your guests and staff.
Join the conversation on social media by following:
Tag @EarthHour and use #Connect2Earth and WWF will share your posts on their timelines and to their online community of millions.
Add the official logo and banners to your website, social media profile & blog. You can use the provided working files to customise the banners for your audiences and guests. Also, don't forget to link back to EarthHour.org
Change your Facebook profile picture to the Earth Hour Facebook frame
Change your Twitter and/or Facebook cover image to show the date, location and time of your event. You can find some suggested Cover Images here.
Set up an Instagram Countdown to Earth Hour (See this Short tutorial on how to set this up)
Countdown to the day by utilizing the countdown images here on your social media pages. Use #EarthHour or #Connect2Earth in your social posts to help your message reach as many people as possible.
You can share our Earth Hour GIFs on your social channels e.g. Facebook, WhatsApp etc. you can find these on the Giphy channel.
Watch the Official Earth Hour 2019 video and share it on your social channels!
Switch off your façade, signage and non-essential lighting as well as dim the lights in public areas, restaurants and exterior spaces.
Encourage guests to reuse towels and linens.
Go paperless or reduce unnecessary paper usage as much as possible.
Encourage staff and guests to join the conversation on their own social media pages using #Connect2Earth and #EarthHour and discuss environmental issues that you and your guests have an affinity with on your social media platforms.
Earth Hour Event Ideas:

Support local Earth Hour events. Contact your local Earth Hour event teams to find out how you can help. Check out https://www.earthhour.org/event-map to find out more about events near you.
Co-host a Facebook event (Send an email with a link to your FB page to ehnetwork@earthhour.org and they'll add you as a co-host).
Encourage guests to gather and celebrate counting down to a lights-out ceremony by offering discounted/complimentary canapés and drinks.
Arrange children's lantern-making classes finishing with a lantern night walk.
Organise a glow-in-the-dark dance performance.
Organise a glow-in-the-dark painting session; allow your guests to shine a light on their creativity.
Create a special 'Earth Hour' menu featuring local organic and sustainable produce cooked with energy saving methods.
Hold an 'electricity-free cocktail party' or create special Earth Hour themed cocktails in your bars and lounges.
Install a pledge board in the lobby for guests to record their actions or create a digital one via Facebook.
Plan a live unplugged 'jazz in the dark' music night.
For hotels by the beach, hold a beach clean-up followed by a bonfire party with an acoustic band / hold a meditation session alongside the cool air and calm waves.
Allow your guests to unwind with an outdoor yoga session in the dark (Use candles in glass containers for a relaxing, soothing atmosphere!).
Hold an eco-film night where you can share short films/ documentaries etc. that celebrates our Earth and raise awareness on sustainability issues. Engage local people to create videos which showcase local nature.
Earth Hour Fundraising Activities:

Incentivize guests to participate in your hotel towel reuse programme e.g. your hotel makes a donation to Earth Hour for each guest that re-uses their towels.
Offer guests the opportunity to round-up their food/drinks bills and donate the change to Earth Hour.
Sponsor a beach clean-up – your hotel makes a donation for every item of litter collected.
Give guests the opportunity to make a small donation to enjoy an Earth Hour event you are hosting, e.g. suggest guests make a donation to join in with a children's lantern making class.
Beyond the Hour:

Join the growing number of companies and organizations going beyond the hour. WWF International can work with you to create strategic campaigns that inspire your guests and employees around the world and help to take Earth Hour messages to an international audience. Take a look at some of the partners who have played a major role in making Earth Hour the biggest grassroots environmental movement in history at www.earthhour.org/our-partners.
Join the 'Just One' Partnership Programme:
WWF has introduced an exciting Hotels' programme called 'Just One'. It has been specifically designed to meet the needs of the hotel industry. WWF's Just One Hotels' Programme will engage your guests all-year-round to create positive change for the planet both in their backyard and around the world.
'Just One' allows association of your hotels with the highly recognized brands of Earth Hour and WWF and provides you with a powerful platform to communicate your support for Earth Hour and also a tangible on-the-ground project.
To find out more about WWF's Just One Hotels' Programme or the many other ways they can work strategically with you to take your brand and sustainability story to even more people, send an email to ehnetwork@earthhour.org stating 'Just One' partnership programme in the email subject.