The Cape Royale Luxury Hotel and Spa has recently been awarded Signum Virtutis, the Seal of Excellence, from the 2014 Seven Star Global Luxury Awards. The award ceremony took place on June 14th 2014 at the Chateau Spa & Organic Wellness Resort in Malaysia.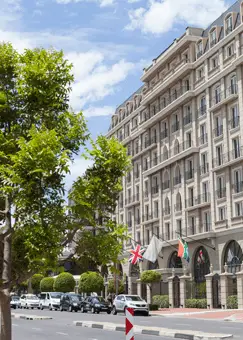 The hotel has also recently been nominated for the 2014 World Luxury Hotel Awards as well as celebrating a certificate of Excellence by TripAdvisor for a consistent accumulation of top ratings.
"There's nothing quite like the tenacity of a great team," says Cape Royale Luxury Hotel and Spa MD, Johann du Plessis, "From the doormen, front desk and concierge to the top management and PR, we pride ourselves in offering service excellence and dedicate ourselves to ensuring the very highest standards are maintained… It is with humble appreciation that we accept these celebrated awards, and use this as yet another platform to drive us forwards and upwards."
New exciting developments are also underway with the launch of The Banting Kitchen restaurant which is set to open at the Cape Royale in September, 2014. Trending weight-watchers cuisine is an all-new restaurant concept for SA, and will be sure to offer the finest renditions of the Banting-inspired concept. The Cape Royale Luxury Hotel and Spa will be further increasing its culinary offering with an array of five additional dining options, including Osumo, Simply Asia, Pasta Café, Shift Espresso Bar and Jewel of India.
Vote for The Cape Royale Luxury Hotel and Spa at the Ultimate World Luxury Hotel Awards: www.luxuryhotelawards.com/vote-hotel
Email: [email protected]
Tel: +27 (0)21 430 0500
Facebook: www.facebook.com/caperoyale
Twitter: @Cape_Royale