Trade News
International model, Tylor Kotze, announced as ambassador for "Friends of TREC"
As part of their ongoing commitment towards taking a stand against rhino poaching, Tintswalo Rhino Extreme Campaign (TREC) today announced the launch of their new initiative, "Friends of TREC". The campaign will see various local and international celebrities lending their voices to raising awareness of the plight of South Africa's dying rhino population. In launching the new initiative, TREC also revealed that its first friend and brand ambassador is international model, Tylor Kotze.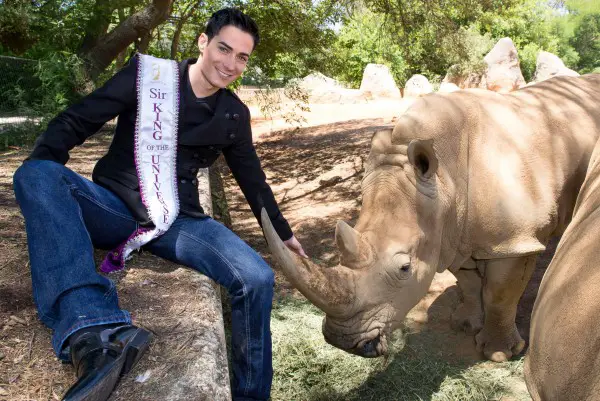 "While the concept of celebrities lending their support towards causes such as HIV/AIDS or cancer awareness is not new, it is highly successful if managed properly. TREC has decided to adopt a similar strategy to allow those who have access to public platforms to share their knowledge and create consciousness about the approximate 750 rhinos that have been killed in South Africa since the beginning of this year," says Michelle du Plessis, Managing Director of Tintswalo Lodges.
Kotze has been chosen as one of the Friends of TREC brand ambassadors as not only is he already a strong advocate for the rights of all animals but as the highest accredited male model in the world, his name will bring both local and international recognition to the project. Further, Kotze is committed to using his pageant title as Sir King of the Universe to help raise further support for this worthy cause and to inspire other celebrities to join him in his cause.
"Rhino poaching is something we've become accustomed to seeing on the news but that seems to be the problem – we expect to see these stories making headlines and we think that there is nothing we can do about it, but there is. Everyone has a part to play in helping to turn the tide against rhino poaching, whether it be educating others or offering monetary support towards the rangers' land arrangements to track and catch poachers. I look forward to working with TREC to help raise responsiveness about rhino conservation, as they truly are walking the talk and their efforts are invaluable in making a difference."
TREC officially kicked off in May 2013 with a 1,000km walk by Tintswalo Safari Lodge's Head Ranger, Fritz Breytenbach, whose aim was to raise awareness about the campaign and garner support in stopping and apprehending poachers in the Manyeleti and surrounding areas. In addition, Breytenbach also spent time in the local communities, educating people about the importance of conservation and how saving the rhino population is not only everyone's responsibility but also to everyone's benefit.
As part of Friends of TREC, Kotze wishes to encourage other celebrities, prominent South Africans and corporate companies to stand with him in the fight against rhino poaching by joining him in support of TREC.
"Ideally I would love to see South Africa come together and make a tangible contribution to rhino preservation. The success of campaigns such as TREC can be measured by the number of rhinos we are able to save, allowing the future generation to experience these majestic beasts firsthand. As a nation, we are responsible to save the rhino from extinction and offer our involvement in whatever way we can to save a species. Together, we can ensure the big five doesn't become the big four," Kotze concluded.
For more information on how you can join Friends of TREC visit www.tintswalo.co.za or follow Kotze on www.facebook.com/SirKingOfTheUniverse2013.