A unique epicurean edutainment experience has been launched at The Westin Cape Town hotel's lofty ON19 Restaurant. Labelled as '1ON19', the Executive Chef presents a 5-course menu focusing on one single ingredient paired with one particular cultivar sourced from vineyards across the Western Cape. By Des Langkilde.
Convened on the last Friday of each month, the '1ON19' menu theme has so far featured Chocolate & Pinot Noir (27th July) and Tonka Bean & Merlot (31st August, which I attended). The next pairing menu will feature Seaweed & White Blends on 28th September, to be followed by 'African Grain' in October and 'Watermelon' in November.
Head Chef Steven Mandes' choice of tonka beans as the primary ingredient for his 2nd edutainment experience menu is certainly different, and perhaps even a controversial one. As a food ingredient, tonka beans have been illegal in the United States since 1954 but that hasn't stopped them from appearing on the menus of Michelin-starred restaurants in the USA.
The controversy around tonka beans – a seed obtained from cumaru trees (Dipteryx odorata aka Brazilian teak) – lies in its chemical isolate 'coumarin', which in large infused doses can cause haemorrhages, liver damage, or even paralysis of the heart. However, each seed only contains about 1-3% of coumarin, and in rare samples up to 10%, so the likelihood of being poisoned is remote. In fact, coumarin is found in common spices like cinnamon (cassia) too. Coumarin is used as an additive to pipe tobacco, e-cigarettes, cosmetics, deodorants, and detergents. It's also valued for its medicinal properties as a homoeopathic tonic; to increase sexual desire (as an aphrodisiac); and to treat cramps, nausea, and tuberculosis, among other ailments. To date, there have been no reported cases of human deaths caused by coumarin.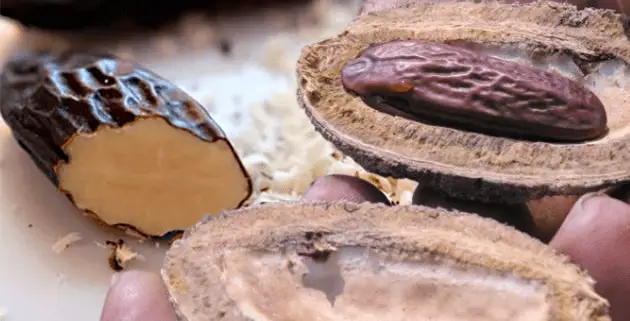 The aromas ascribed to this controversial bean have been variously described as being reminiscent of vanilla, cherry, almond, and something spicy — a bit like cinnamon. Tonka beans are often used as a substitute for vanilla, especially in puddings and in ice creams as the bean flavours pair well with chocolate and sweet fruits such as strawberries and now, as I was about to discover, with Merlot wine too.
Getting back to the Tonka Bean & Merlot evening, proceedings kicked off with the serving of a complimentary glass of Jan Fiskal Merlot from MAN Family Wines, while The Westin's HOD Pieter Rossouw providing some background to the event and introduced Chef Steven, who elaborated on the preparation of each dish and its merlot pairing as the evening progressed.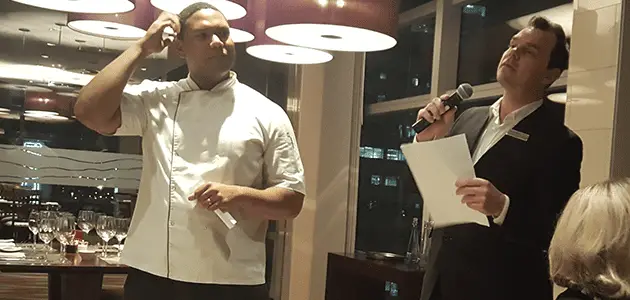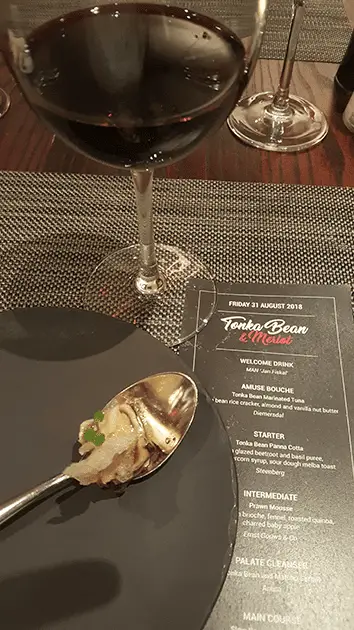 Given Chef Steven's penchant for experimentation, I expected the amuse-bouche (a single, bite-sized hors d'oeuvre served to excite and prepare the palate for the dinner to come) to be Fugu (highly toxic pufferfish), but it turned out to be a rather tame 'Tonka Bean Marinated Tuna'. Although not counted as a course, the amuse-bouche consisted of a spoonful of tuna prepared with almond and vanilla nut butter and tonka bean rice cracker. The spicy undertones of Diemersdal Estate Merlot from the Durbanville Valley region paired well by adding a hint of mint and blackberry to the aftertaste.
The Starter course, 'Tonka Bean Panna Cotta' was unusual as this gelatine based mould method is usually associated with desserts, especially in Italian cooking, but Chef Steven pulled it off miraculously by accompanying the pannacotta with a cumin glazed beetroot and basil puree, incredibly thin slices of sourdough melba toast, and a drizzle of pink peppercorn syrup. Paired with a glass of Steenberg Vineyards' 2015 Merlot, notes of fresh plum, dark chocolate and black olive were added to the palate.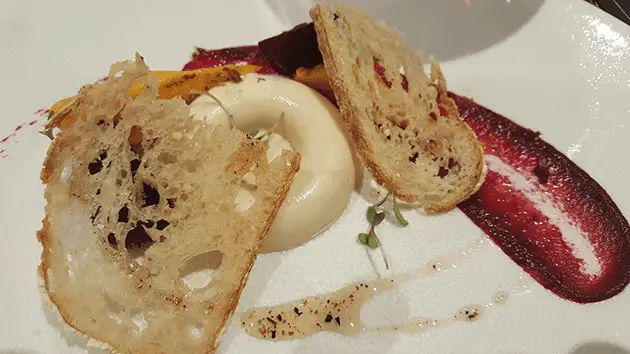 An intermediate course of 'Prawn Mousse' followed, served with tonka bean brioche (a French bread with high egg and butter content), fennel, roasted quinoa, and charred baby apple. While quinoa is gaining popularity as a gluten-free, high protein plant food (it also contains all nine essential amino acids), I found that roasting the seeds made the dish too crunchy and detracted from the more subtle texture of the brioche. The paired 2015 Merlot from Ernst Gouws & Co in Stellenbosch added hints of ground black pepper and a potpourri of sun-dried fruit to the medley of flavours.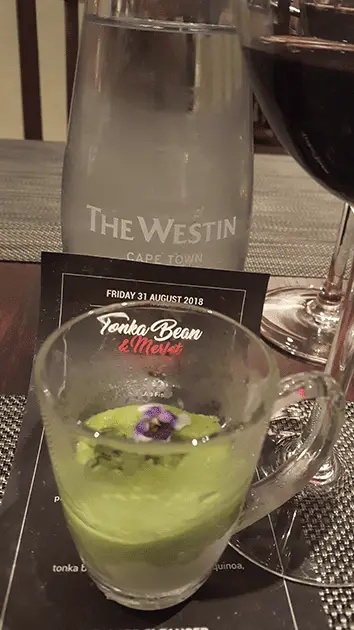 Even the palate cleanser course 'Tonka Bean and Matcha Sorbet' had its paired Merlot. An excellent 2015 vintage from Anura Vineyards in the Simonsberg region of Paarl. With integrated French oak, a smooth palate and a long lingering finish, this was a perfect pairing. It's interesting to note that Matcha – a finely ground powder of specially grown and processed green tea leaves – is the nutritional equivalent of 10 cups of regularly brewed green tea and has 137 times more antioxidants.
Moving on to the main course, a serving of 'Slow Roasted Lamb Neck' with Moroccan spices, semolina cake, port pickled baby onions, and roasted banana & tonka bean puree was paired with a 2015 Meerlust. Created by winemaker Chris Williams, 2015 is claimed to have been a watershed vintage for their 25-year-old estate-grown Merlot plantings situated on the clay-rich soil of Vilafontes and Klapmuts vineyards. The silky tannins and pronounced minerality of this merlot served to temper the inherent fattiness of the lamb neck. Chef Steven's selection of semolina cake as an accompaniment to this dish demonstrates his attention to detail. Made from durum wheat, semolina is digested slowly and is a good source of two vital vitamins: E and B.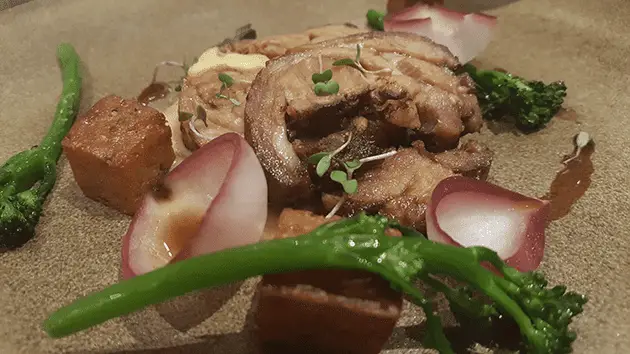 The 5th, and final, course – a 'White Chocolate and Tonka Bean Mousse' dessert, served with miso praline and vanilla macaroons – was paired with an appropriately named Journey's End 2015 Merlot from the Gabb family estate just off Sir Lowry's Pass in Somerset West.
At this point, my not-s0-smartphone battery went dead, so I don't have a photo of the dessert. To be truthful, even the taste of this grand finale has eluded my memory, probably due to having imbibed eight glasses of the Cape's finest Merlot. I seem to recall a ninth or perhaps even the tenth glass of Merlot while socialising with a group of restaurant patrons in Raleigh's Cigar Bar on the mezzanine floor of The Westin.
In conclusion, I leave you with an appropriate quote from Charles Baudelaire, circa 1850s: "One should always be drunk. That's all that matters…But with what? With wine, with poetry, or with virtue, as you choose. But get drunk." Baudelaire (1821 – 1867) was a French Renaissance poet credited with coining the term "modernity" (modernité) to designate the fleeting, ephemeral experience of life in an urban metropolis, and art's responsibility to capture that experience. The '1ON19' menu series has reinvented this ephemeral experience with the art of epicurean edutainment.
A word of caution: Considering that most South African wines (and Merlot's in particular) have an alcohol content of around 14%, it's best to arrange an Uber or Book a Buddy to avoid drinking and driving. Believe me, after the eight generous glasses of wine served at these events, you'll definitely be somewhat inebriated and well satiated. An even better solution is to book a night at The Westin and work off those calories in the morning at the Heavenly Spa by Westin located adjacent to the restaurant on the 19th floor.
For more information visit www.on19restaurant.co.za