Hospitality
Property Review: City Lodge Hotel V&A Waterfront
If you're checking into the City Lodge Hotel Victoria And Alfred Waterfront, ask for a room on the 1st floor as these have balconies from which you can truly appreciate the views across the Roggebaai Canal precinct towards the City and Table Mountain massive beyond. By Des Langkilde.
As one of three hotels in the Cape Town City Lodge brand stable (the other two being GrandWest and Pinelands), a big plus to this hotel is its convenient location, being positioned within walking distance to Cape Town's business hub, to the V&A Waterfront, and to the International Convention Centre (CTICC).
If you're not into walking, you can hop on the City Sightseeing boat (operated by Red Bus Cape Town) from the jetty conveniently located next to the hotel entrance and take a short scenic ride to either the CTICC or to the V&A Waterfront (stops at the Ocean Aquarium).
From a business travel perspective, the hotel's complimentary WiFi service is another added convenience, as is the renown City Lodge breakfast buffet (served from 6 to 9 am), and the restaurant's sun deck where smoking is permitted.
Construction work by the V&A Waterfront Company is still underway around the hotel but I did not find the noise to be excessive as the rooms are well sound proofed. And besides, the reflection of water ripples cast onto the room ceiling from the canal at sunset is well worth putting up with a bit of construction clatter.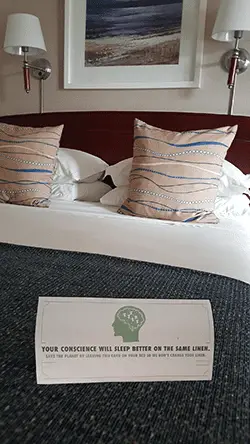 To assist with Cape Town's dire water shortage, City Lodge has placed innovative guest request cards in all rooms. Please follow their advice and play your part in alleviating the city's water crisis.
During my stay, I met with the hotel's GM, Stefan Janse van Rensburg, who says that most guests take the water saving requests seriously.
Other water-saving initiatives applied at the hotel include replacing all garden plants with indigenous succulents that don't require watering, and Stefan's team is currently investigating grey water recycling solutions.
As part of the hotel's contribution to the City Lodge Group's sustainable tourism programme, Stefan supports the Ikhaya Le Themba Foundation – a faith-based NPO in the heart of Khayelitsha – with linen and toiletry donations. Fresh produce is also purchased from the NPO for the hotel's kitchen. The hotel also supports the local V&A Waterfront police station, which I think is a great initiative.
For more information, contact City Lodge Hotel Victoria And Alfred Waterfront at:
Tel: +27 (0)21 419 9450 | Email: [email protected] | Website: www.clhg.com