Conservation
Duo Paddle to Save Shongweni Reserve on #MandelaDay2018
DURBAN, 18 July 2018 – In honour of International Mandela Day today, the founder of Conservation Guardians, Greg Vogt and Italian-born, Sara Agostini will paddle for 67 km's on Shongweni Dam to raise funds for the mammoth challenge of rescuing the Shongweni Resource Reserve which has deteriorated since a land claim in 2013.
The reserve, situated in Outer West, Ethekweni, is 1700 hectares of pristine biodiversity and is currently home to 12 Giraffe, 12 Buffalo and a number of other species.
Conservation Guardians founded in 2008, cooperates with local structures, Conservation Authorities and global tourism organizations to achieve biodiversity targets, improve the welfare of wildlife, and the integrity of tourism and aims to inspire a community of conscious travellers.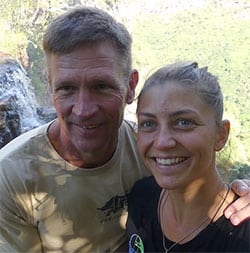 "Conservation Guardians is mandated with the task of restoring the Shongweni Resource Reserve back to its original splendour and we will not be able to achieve this without the right attitude, the right people and the necessary resources," says Vogt.
Hoping to raise funds to maintain the reserve for the next 3 months, Greg and Sara have committed to paddle for 67 km's on what would have been Nelson Mandela's 100th Birthday and have set up a campaign on donations based crowdfunding platform, BackaBuddy to appeal to the public for support.
The campaign went live on 13 July 2018 and has thus far raised R8 398.54 towards their fundraising target of R350 000 with contributions from 20 donors.
The funds will be used to cover vital operational costs and combat various threats to the sustainability of the facility as well as protect the ecosystem from poaching, vandalism, copper and brass theft from the dam wall.
"The fences that keep these animals safe have never been maintained and today the beautiful herd of giraffes and the other animals are at risk and are exposed to various threats. Since the previous managing company has been operating the reserve, it has deteriorated and it's been really upsetting to the Zwelibonvu community," says Vogt.
Sara, who joined Conservation Guardians in October 2017,  has fallen in love with South Africa. As a student studying foreign languages and international relation she has visited SA a number of times and hopes to protect its beauty.
"This beautiful country offers one culture, ancient and modern architecture and diverse natural experiences, from the ocean to the mountains. This place has nourished my soul since I was a child and we believe that our BackaBuddy campaign can make a difference. If Madiba has taught us anything, it's that nothing is impossible," says Agostini. 
To donate to this campaign visit: https://www.backabuddy.co.za/champion/project/shongweni67
Alternatively, make use of this Snapscan code: