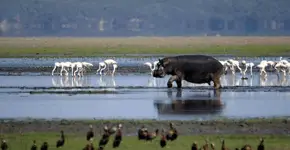 Opinions on South Africa's heritage landmarks may differ but it's hard to argue against Moja Heritage Collection's selection below. By  Ian Solomon.
"South Africa's wide open spaces and diverse natural wonders have entranced both domestic and international tourists for generations, but no journey would be complete without a visit to these five heritage attractions," says Ian Solomon, CEO of Moja Media who publish Moja Heritage Collection.
Bourke's Luck Potholes
This natural water feature marks the beginning of the Blyde River Canyon.  Through countless aeons the swirling whirlpools which occur as the Treur River plunges into the Blyde River, caused waterborne sand and rock to grind huge, cylindrical potholes into the bedrock of the river.  The Potholes were named after a gold digger, Tom Burke, who staked a claim nearby.  Although his claim did not produce a single ounce of gold, he correctly predicted that large gold deposits would be found in the area.
Karoo Desert National Botanical Garden
The Karoo Desert National Botanical Garden is the only succulent botanical garden in the southern hemisphere and on the African continent.  Spring is the floral highlight of the year, when thousands of annuals and brightly coloured vygies come into flower.  Falling within the Succulent Karoo Biome, the Garden boasts some 400 naturally occurring species.  It is also a haven for rare and endangered plants, with over 300 species being protected and propagated.  Almost 70 bird species have been recorded in the Garden, as well as a wide range of small mammals, such as the Cape grey duiker.
iSimangaliso Wetland Park
iSimangaliso Wetland Park was listed as South Africa's first World Heritage Site in recognition of its unique global values; no other place has comparable ecological processes or the superlative natural beauty and biodiversity of iSimangaliso.
The 332,000ha park contains three major lake systems, eight interlinking ecosystems, 700 year-old fishing traditions, most of South Africa's remaining swamp forests, Africa's largest estuarine system, 526 bird species and 25,000 year-old coastal dunes, among the highest in the world.
The name iSimangaliso means "miracle and wonder" which aptly describes this unique place.
Mapungubwe Cultural Landscape
Mapungubwe is an expansive savannah landscape at the confluence of the Limpopo and Shashe rivers.  Mapungubwe developed into the largest kingdom in the sub-continent before it was abandoned in the 14th century.  What survives are the almost untouched remains of the palace sites and the entire surrounding settlement area, as well as two earlier capital sites, together presenting an unrivalled picture of the development of social and political structures over some 400 years.
Richtersveld Cultural and Botanical Landscape
The160,000ha Richtersveld Cultural and Botanical Landscape of dramatic mountainous desert in north-western South Africa is communally owned and managed.  This site sustains the semi-nomadic pastoral livelihood of the Nama people, reflecting seasonal patterns that may have persisted for as much as two millennia.  It is the only area where the Nama still construct portable rush-mat houses (haru om).
For more information visit: www.heritagecollection.co.za