Transport
The All New Sprinter Spirit For You
Johannesburg, 26 March 2019 – Living up to its claim "100% For You", the all-new third-generation Mercedes-Benz Sprinter has been taken to the next level with a €2.5 billion worldwide investment in development, production network, sales and after-sales support. By Des Langkilde.
To prove their claim, Mercedes-Benz South Africa invited a bunch of motoring journalists to put the new Sprinter variants to the test at the Kyalami Race Track on Monday 25 March. Before I go into this review, I can tell you up front; #ThatSprinterSpirit is "100% For Me" – especially the mobile home/camper conversion. In fact, the Sprinter has proved that it can be 100% anything, and everything, to everyone.
So, what's changed since the Sprinters' international market launch in 1995? A lot. Here's a quick overview:
The transition from a vehicle to a complete transport and mobility solution
Increased safety levels
Enhanced Sprinter Inkanyezi Taxi specification
Most versatile large van available
Enhanced engine and driving performance
All -new 3.49-tonne variant allows drivers with a Code 8/Code B to pilot the commercial vehicle
Improved Total Cost of Ownership (TCO).
Speaking at the launch, the words of Nadia Trimmel, Vice-President of Mercedes-Benz Vans South Africa, pretty much sums it up: "The South African operating environment is one of the toughest, and despite this, the Sprinter has been a leader in various applications and a class-leader in the industry. The new Sprinter will continue where its predecessor left off by embodying attributes that have made it so successful: flexibility, robustness and being economical".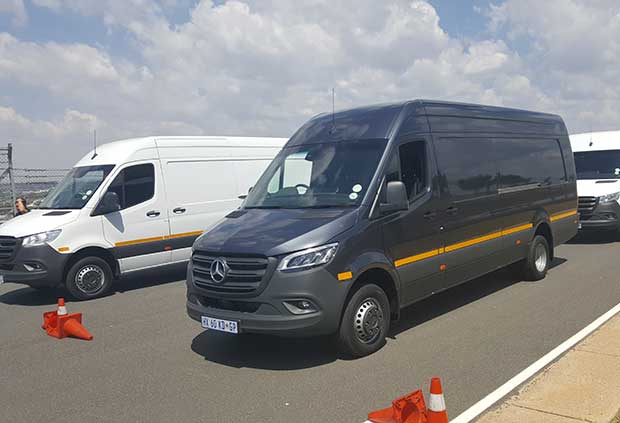 "The new Sprinter impresses with increased safety levels, unrivalled features and increased versatility for all the industries it serves. That is how it backs its claim of '100% For You'. The Sprinter is not only ready for any job in one of the most demanding countries, but it is also poised to impress in a manner we refer to as #ThatSprinterSpirit. All this means is that there is no task that it cannot do effortlessly," added Trimmel.
A Sprinter for every need
Configured either as a panel van, people carrier or freight carrier, the Sprinter offers a number of variants for countless industries. These include taxi, tourism trade, service and logistics, as well as other applications in the form of mobile homes and speciality conversions.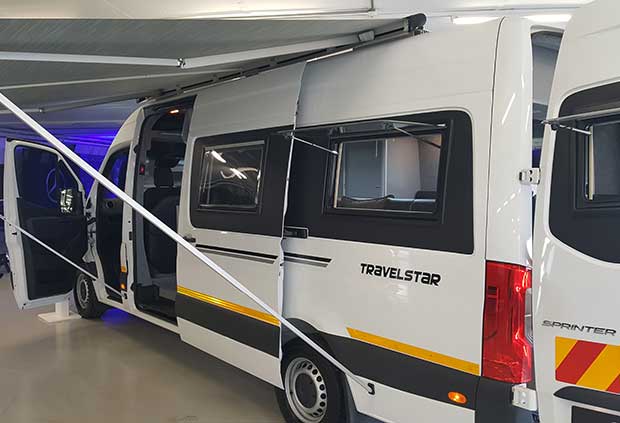 The Sprinter offers more customisable applications than ever before. It is available locally in a number of variants – depending on body length, payload, cargo space, roof heights and equipment options.
The variety of seating configurations offered, also makes it easily the most versatile large van in the country. Maximum cargo volume is up to 15.5 cubic metres, with a Gross Vehicle Mass (GVM) of up to 5.5 tonnes.  
The Inkanyezi taxi legacy
The Mercedes-Benz Sprinter Inkanyezi legacy continues with the new Sprinter, as the taxi that dominates the long distance market and is set to cater to the needs of the everyday commuter, even more precisely than before.
The new Sprinter Inkanyezi conversion comes in three different grades, with options ranging from the basics like three-point safety belts on every seat, through to USB ports (type-A) in the rear, free flow rear air conditioner, rear speakers and many more customer required additions, including an electric sliding door at the top end.
Increased safety levels
Mercedes-Benz Vans has also raised the large van segment to a new level where safety features are concerned. The standard assistance systems available for the new Sprinter include:
Cross Wind Assist – makes van journeys considerably safer, especially in adverse conditions on any terrain.
Hill Start Assist – makes it easier to start up hills from a stationary position.
Active Brake Assist (ABA) – aims to reduce road traffic accidents. In an emergency situation, ABA warns the driver of the oncoming danger, and depending on the distance and size of the obstacle ahead, sends out an acoustic or visual warning to alert the driver.
The list of optional features is extensive. These include DISTRONIC:
Lane Keeping Assist – a reversing camera shows its image in the rear-view mirror.
Parking Assist – has a 360-degree camera that makes another important contribution to improving driver precision.
Active Distance Assist – this system takes a lot of work away from the driver and automatically regulates the distance from the vehicle ahead. In the event of the vehicle in front decreasing speed, the system will slow the vehicle down up to a complete stop.
A rain sensor and wiper with an integrated wet wiper system also ensures optimum visibility even during the wiping process. Great for getting rid of those bug splats on long journeys!
Upgraded engine, smoother gear shifts
The well-proven and trusted 2.2 litre, four-cylinder Mercedes-Benz OM651 diesel engine is once again called on to deliver the power, performance and efficiency expected, with two output levels: 84kW and 120kW.
The economical 84kW engine offers 300Nm of torque and is the perfect entry-level solution for businesses in the ever increasing courier express and parcel segment.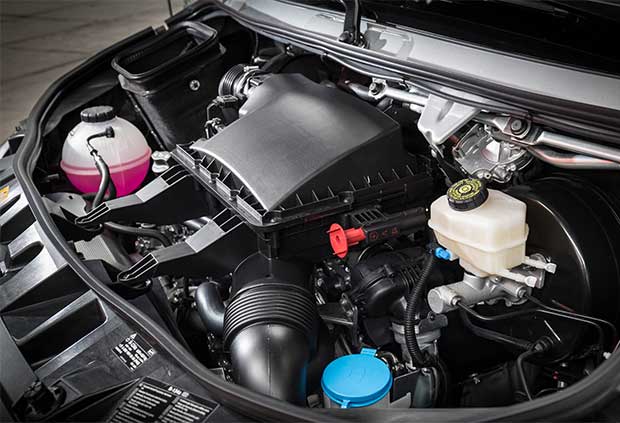 In the new Sprinter, the 120kW variant – with 380Nm of torque – benefits from an increase of 10kW as compared to its predecessor.
For more demanding applications, the three-litre, six-cylinder OM642 is the perfect engine. Delivering a punchy 140kW and 440Nm, it ensures there is not much that the new Sprinter cannot do.
More importantly for tour operators, the Sprinter's engines reduce fuel consumption, which has a positive effect on its total cost of ownership.
Linked to these unmatched engines is the Sprinter's new transmission, which offers smooth gear changes and a comfortable ride. The transmission combines a high level of smooth-running and a long service life.
Thanks to the large overall ratio of the transmission, the engine revving speeds remain as low as possible in all driving situations, which further contributes to fuel-efficient driving.
Improved Total Cost of Ownership (TCO)
"The new Sprinter boasts even better running costs than its already economical predecessor," said Trimmel.
According to Mercedes-Benz, the new Sprinter 516 CDI has recorded improved fuel consumption of 8.5% (in accordance with prevailing prescribed measuring process Regulation EC 715/2007 of the European Parliament); and a cents per kilometre reduction of 4.5%. A definite bonus across all industries and applications.
The all-new 3.49-tonne variant
The new 3.49-tonne GVM Sprinter allows drivers with a Code 8/Code B drivers licence to pilot the commercial vehicle.
With the introduction of the new 3.49-tonne GVM Sprinter, Mercedes-Benz Vans is giving customers who previously could not drive this exceptional vehicle – due to licence or weight restrictions – a great transport and business solution.
Passenger comfort & tech convenience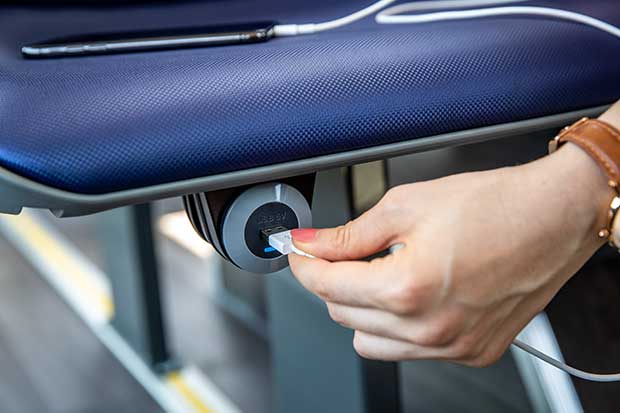 Passengers not only wish to be transported from A to B, but also want to make good use of their time in the Sprinter, in the greatest possible comfort. The interior concept of the new Sprinter is perfectly tailored to passenger needs, boasting features including wireless charging facilities and USB ports (Type-C in the front) for uninterrupted connectivity.
Updated interior: comfortable and ergonomic
The driver's workplace is uncluttered, practical and designed to meet the relevant transport requirements. The improvements include ergonomically shaped seats, keyless start and an enhanced air-conditioning system.
Various storage compartments ensure that everything has its place, resulting in the driver and co-driver being able to perform their duties efficiently and consistently.
Multimedia system with touchscreen and voice control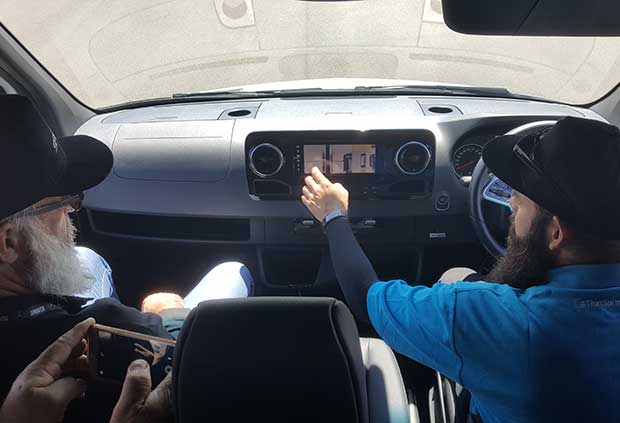 The new MBUX (Mercedes-Benz User Experience) multimedia system is available in the new Sprinter. Thanks to artificial intelligence, the system is intuitive and offers two options: a 7-inch and 10.25-inch display screen with HD resolution, both controlled either with touch-enabled steering wheel controls, or an all-new voice control system. They offer the driver maximum convenience to allow for ultimate focus on the road.
This makes the Sprinter an integral part of the value chain, unlocking a new dimension in terms of efficiency, flexibility, connectivity and profitability for customers across various industries.
Priced For You Too
With the launch of the third-generation Mercedes-Benz Sprinter, the large van's pricing has been structured "100% For You" too.
Model
GVM
Power/Torque
Retail Price
(excl VAT & CO2 Tax
Sprinter Freight Carrier (FC)
316 CDI Sprinter FC
3 550 kg
120kW/380Nm
R 461 783
316 CDI Sprinter FC LWB
3 550 kg
120kW/380Nm
R 519 484
519 CDI Sprinter FC
5 000 kg
140kW/440Nm
R 575 993
519 CDI Sprinter FC Double Cab
5 000 kg
140kW/440Nm
R 609 772
519 CDI Sprinter FC AWD
5 000 kg
140kW/440Nm
R 762 462
519 CDI Sprinter FC AWD Double Cab
5 000 kg
140kW/440Nm
R 788 65O
Sprinter Panel Van (PV)
311 CDI Sprinter PV
3 550 kg
84kW/300Nm
R 501 448
311 CDI Sprinter PV 3.49 Tonne
3 490 kg
84kW/300Nm
R 538 595
316 CDI Sprinter PV
3 550 kg
120kW/380Nm
R 544 257
316 CDI Sprinter PV LWB
3 550 kg
120kW/380Nm
R 589 355
319 CDI Sprinter PV
3 550 kg
140kW/440Nm
R 647 277
319 CDI Sprinter PV LWB AWD
3 550 kg
140kW/440Nm
R 769 308
516 CDI Sprinter PV
5 000 kg
120kW/380Nm
R 621 238
516 CDI Sprinter PV XL
5 000 kg
120kW/380Nm
R 636 951
519 CDI Sprinter PV
5 000 kg
140kW/440Nm
R 676 726
519 CDI Sprinter PV XL
5 000 kg
140kW/440Nm
R 702 276
519 CDI Sprinter PV XL 55 Tonne
5 500 kg
140kW/440Nm
R 725 407
519 CDI Sprinter PV AWD
5 000 kg
140kW/440Nm
R 815 925
So, what's holding you back? The price? Don't stress about that – Mercedes-Benz Finance has launched what it calls "Total Cost of Ownership – For You". It's an all-inclusive finance deal that takes your particular needs into consideration – you can even ask for reduced payment breaks to accommodate seasonality.
To sum it all up, as I wrote at the beginning of this review, #ThatSprinterSpirit gets a "100% Thumbs-up From Me".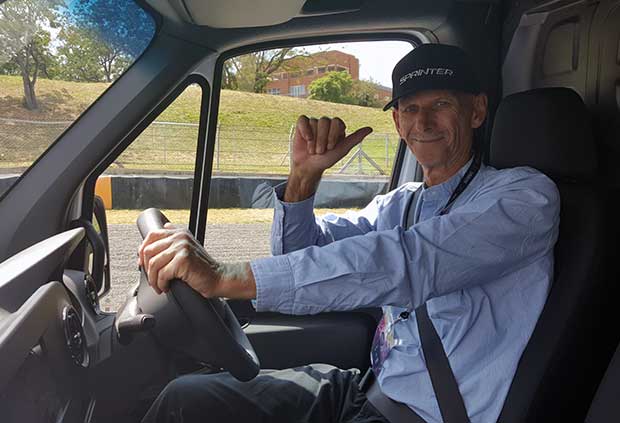 Go test drive the new Sprinter at any authorised selling outlet, visit www.mercedes-benz.co.za/vans