Lifestyle
Art & Wine Combine To Create Collectors Reserve
CAPE TOWN, 06 August 2018 – Durbanville Hills launched its latest collection of wines, the Collectors Reserve, to media guests today. The name is certainly an appropriate double entendre, as this premium wine-of-origin varietal collection ties-in perfectly with the linocut artwork depicted on the label of each Collectors Reserve bottle. This exclusive range is a collector's item for both wine and art lovers alike.
Created by Capetonian artist Theo Vorster, the artwork pairs each wine with a prominent Cape Town landmark, most of which are visible from the winery. Theo is known for creating unique pieces of art using hand-coloured linocuts, ultimately transporting viewers into an energised, playful dimension, which pay homage to both the wine region and the winemakers.
"To cement the brand's ethos of connecting the city's vibrant culture to the Winelands, Durbanville Hills handpicked seven proudly Cape Town landmarks and asked Theo to impart his vision of these landmarks onto each bottle. With each landmark comes a distinctive story which can be found on the back of the respective bottles," says Martin Moore, Cellar Master at Durbanville Hills.
An example of one such story is the Merlot, which Moore says is linked to the cheery red and white candy-striped lighthouse in Green Point with its foghorn. "Affectionately known as 'Moaning Minnie', the lighthouse is well-known for guiding ships along the misty Cape coast. These misty, cool climate conditions develop the Merlot's unique character, displaying notes of mint and red cherry."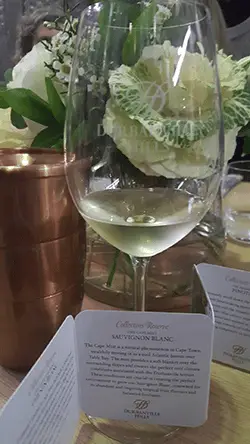 The winemaking team are understandably proud of the new range, especially as it went on to fetch multiple awards* at the recent Gilbert & Gaillard Awards – an internationally acclaimed wine awards ceremony. "Prior to launching into the market, we are already receiving such positive feedback on this range and look forward to its success among the consumer market," says Moore.
The Collectors Reserve range consists of  The Cape Mist Sauvignon Blanc, The Cape Garden Chenin Blanc, and The Cableway Chardonnay, as well as The Lighthouse Merlot, The Promenade Pinotage, The Castle of Good Hope Cabernet Sauvignon, and The High Noon Shiraz.
To start, four varietals in the range (Sauvignon Blanc, Chardonnay, Merlot and Pinotage) will be available at select retail stores and the other three (Chenin Blanc, Shiraz and Cabernet Sauvignon) will be available to purchase at Durbanville Hills or via the vinoteque online store.
About Durbanville Hills: A place where city culture and viticulture connect, Durbanville Hills is located a mere 20 minutes away from the Cape Town city centre, standing proud against the Tygerberg Hills. The winery not only offers a spectacular view of Table Mountain, Table Bay and Robben Island, but also an extraordinary terroir that moderates temperatures, one of the main contributing factors that shape the lively harmonious wines of Durbanville Hills. For more information, visit www.durbanvillehills.co.za.
*List Of Durbanville Hills Awards
Gilbert & Gaillard International Challenge:
Collectors Reserve: Chardonnay 2017 (GOLD)
Collectors Reserve: Pinotage 2016 (GOLD)
Collectors Reserve: Chardonnay 2017 (GOLD)
Collectors Reserve: Chenin Blanc 2017 (GOLD)
Collectors Reserve: Sauvignon Blanc 2017 (GOLD)
Collectors Reserve: Cabernet Sauvignon 2016 (GOLD)
Collectors Reserve: Merlot 2016 (GOLD)
The Asian Chardonnay Masters:
Collectors Reserve: Chardonnay 2017 (GOLD)
About the Artist: Theo Paul Vorster was born in Namibia and he currently resides in Cape Town. He started with art classes at school and ended up enrolling for BA Graphic design at the University of Stellenbosch with printmaking as his main subject. Theo has been a fulltime artist since 1996 and has had many successful solo and group exhibitions. He originally focused on etching but in 2006 he started looking at other methods and turned to Lino. He loves the three dimensional quality of carving into Lino. As the print is black and white it also allows him to experiment with colour. He now mostly works with Lino.
The Lino block is cut and printed by hand on 285g Fabriano paper. All prints are individually hand-coloured by Theo with acrylic ink. When an edition has been completed the Lino block is finished in oil paint and sold. This makes the prints more exclusive as the artist cannot reprint a second edition. The availability of the original Linocut finished in oil paint is unique and remains a sought-after item.
Theo also produces monotypes, woodcuts, serigraphs, charcoal and oils. He is a keen teacher and has regular one-day lino workshops at his Studio in Bellville.
Exhibitions Highlights over the past three years:
2015 – Solo Woodcut Exhibition – "Whisper down the lane" – Rust en Vrede Art Gallery, Durbanville, Cape Town
2016 – Solo exhibition – South African Print Gallery, Woodstock, Cape Town
2016 – Mono/Lino exhibition Clare, Jono, Theo and friends with Clare Menck, Jonathan Comerford and Theo Paul Vorster.
2017 – "Blou Pot" curated by Alex Hamilton for Stellenbosch Woordfees.
2017 – "Bosch in Africa" curated by Sandra Hanekom for Stellenbosch Woordfees
2017 – Koekedoortjie signature artwork for Kyknet
2017 – Artworks for wine labels for Durbanville Hills Wine Farm
2017/18 – K9 Re-worked – Solo Exhibition for RK Contemporary
2018 – Re-worked print exhibition for Rust&Vrede Art Gallery Durbanville
2018 – Turbine Art Fair JHB – SA Print Gallery