Trade News
Gold Rush. Gold Fever. Golden Wildebeest.
Golden Breeders and Castle de Wildt have pleasure in inviting you to experience Auction Day Dynamics first hand.  Please be our guest at the 2nd Golden Breeders Auction to be held on 14 and 15 July 2013, at Castle de Wildt in Modimolle, Limpopo.   Experience the outstanding facilities offered by Castle de Wildt, the pure adrenaline of breeders chasing after pure bloodlines, the company of high profile investors and the warm hospitality that the Bushveld is known for.  Our formal invitation is attached hereto.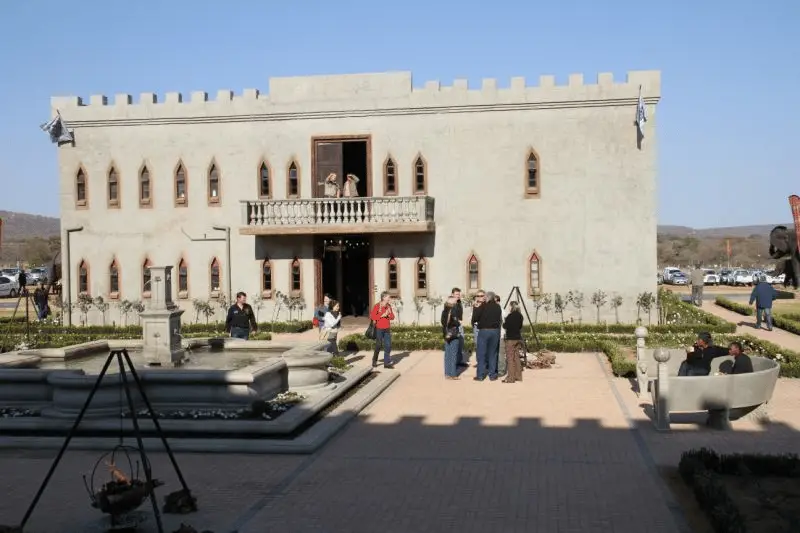 Based on statistics on Vleissentraal auctions alone, the wildlife industry has grown from a R62 million to a R864 million industry in the last 10 years, with a total turnover of just under R2,2 billion during this period.

Breeders who paid top prices for the scarcest genetics available resulted in just seven rare species contributing 91,3% of all turnover (white rhino, Livingston eland, buffalo, roan, sable, black impala and golden wildebeest). The scarce game market has shifted its entire concept from being producers of quantity to producers of quality.
Due to the value placed on scarce game, breeders have not only restored wildlife but also enhanced the genetic quality of South Africa's wildlife. It is astonishing to see how positively the wildlife industry has grown, mainly as a result of the legal trade, the scarcity of wildlife and the tourism industry.  In fact, game ranching has evolved at such a pace and is continuing to develop and grow itself as an industry, predominantly as a result of the great passion and drive experienced by all who enjoy farming and the great outdoors.
Over the last 10 years, prices for rare species have continued to increase due to breeders selecting purely on quality rather than on quantity. Top male animals now have increased value and are used to upgrade herd genetics. A greater market security was established for breeders in 2011 after Nature Conservation agreed to the legalised trade and movement of colour variants, which in turn resulted in the doubling of average prices.
Increases in wildlife prices are also due to the fact that cull animals and weak females are no longer placed on auction as the market has matured and can recognise the difference in the quality of animals.
With economic value added to our wildlife, South African game ranchers can now generate sustainable income from their wildlife.
Golden Breeders (www.goldenbreeders.co.za)
Facts:
The 1st Golden Breeder Auction was held in 2012 in Modimolle, Limpopo and the event received international television coverage on CNN.
More than 4500 persons attended the auction.
The 1st Golden Breeder Auction is the only auction in SA that achieved a complete sell out with no animals left on reserve.
Golden Wildebeest naturally occurred along the Limpopo River Basin, adjacent to the Tuli Block of Botswana.  The first Golden Wildebeest was captured by Alec Rough in the early 1990's on the game farm Swinburne in the Limpopo Valley.  Golden Breeders were established in 2012 by founding members Bernard Groenewald and Barry York – dedicated wildlife breeders who are based in the Limpopo Province.
A cluster of well-designed game farms specialising in the breeding of exclusive and exotic game species, supply the newly developed Golden Breeders' auction house, "Castle De Wildt".  Arguably this is Golden Breeders' most ambitious project to date.  Castle De Wildt represents Golden Breeders' continued progressive attitude, expanding vision, resolute determination and perseverance for business excellence.
As responsible game breeders, Golden Breeders is registered at Wildlife Ranching South Africa (WRSA).
Game species like the Zambian Sable, Roan Antelope, Golden Wildebeest, Black Springbuck and Black Impala forms part of the private game stock in Golden Breeders' breeding centres. As a result of the well-established game breeding practices, detailed stock tagging and micro-chip identification Golden Breeders are in the position to match exactly offspring with breeding stock, ensuring the improvement and establishing of a high quality and pure gene and bloodline pool.
Golden Breeders exercise passive capturing procedures of sensitive game – all capturing of game are executed by highly qualified and professional personnel and all activities are under scrutiny of an independent veterinarian.
Press release prepared by Essential Marketing on behalf of Golden Breeders and Castle de Wildt.  For further information, kindly contact Engeline Gericke on (014 )736 4653 during office hours.