Trade News
January Events at The People's Republic of Howzit
Referred to as 'The People's Republic of Howzit' by locals, Bay Harbour Market offers an authentic eclectic blend of all things South African. It's no surprise to hear that it attracts close to 30 000 locals and tourists a month to its 100+ stalls.
Looking for a great vibe and somewhere to meet real Capetonians? Or would you rather immerse yourself in Cape Town's design culture? Maybe you're looking for somewhere to jive with great South African musos or a space that's out of the South-Easter where you can devour delicious street food. Find all of the above as well as high-quality gifts and mementoes of your trip to the most beautiful city in the world at Bay Harbour Market.
Be warned though, this is no quiet-amble-past-the-stalls experience. What was once an abandoned fish factory looking towards the iconic Chapman's Peak, is now a vibrant wharf-side warehouse space that thrums with energy, colour, creativity and sound – and loads of local music bands and DJ's lined up for January 2018.
In addition to live music, you can expect an impressive proudly-South African range of unique hand-made items, from leather goods to exquisite timepieces, awesome art and quirky stationery to jewellery and fashion. Health and wellness products are also on offer, and you can even get a massage here from the once personal masseuse to Mandela!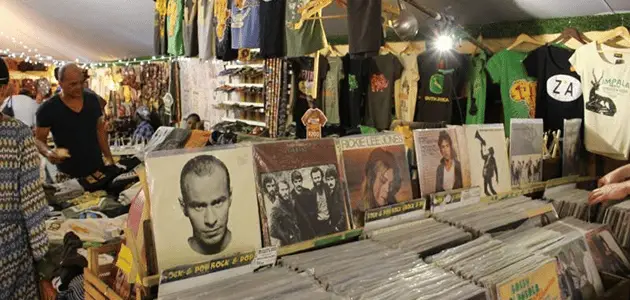 The freshly-made food is supplied by local farmers, artisans and small local producers and absolutely everyone is catered for with vegan, gluten-free and Banting-friendly options, as well as local Cape Malay treats, South African game, awesome seafood, moreish steak wraps, spicy Indian delicacies, delectable sushi and Chinese cuisine made by the legendary Chef Wang.
Of course, you can't leave without allowing yourself to be tempted by a lekker koeksister, decadent pancake or sticky sweet. (That would be a pity. And possibly rude. Don't do it.)
And if you're feeling parched, options include refreshing smoothies and fresh juices, excellent coffee, iconic KWV wines and various craft beers (in fact, there are 14 draught beers to choose from!).
Children will be enthralled by all the 'kiffness' (meaning 'exhilaratingly fabulous'!) happening around them and will love the activities just for them on Saturdays. (Parents love these too as they get to browse or hang with their mates while their laaities are looked after!) The market is open 5 pm – 9 pm on Fridays, and 9.30 am – 4 pm on Saturdays and Sundays. Any time's a good time to visit.
Oysters and bubbly for breakfast? No probs. Come along early! (Mind you, some of the stallholders serve brekkie all day.) Want a lekker evening vibe? Come for supper and check out the bands and DJs.
There's free wifi, loads of parking and excellent security. So fire up your car, or better still, hail your HomeHeroes cab (50% off for market patrons) – or otherwise take the MyCiti bus #108 right to the front door – and head to 31 Harbour Road, Hout Bay.
Come get festive at Bay Harbour Market this January – you'll smaak the vibe!
For more information visit www.bayharbour.co.za or follow on Facebook, Twitter, and Instagram.