Trade News
Newmark Hotels, Reserves and Lodges offer an easy "charging policy" for in-house guests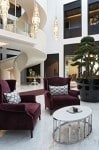 Cape Town, celebrated as one of the most diverse and spectacular holiday destinations in the world, boasts vineyards, mountains, dazzling beaches and incredible wines and cuisine, not to mention one of the natural wonders of the world – Table Mountain.
Framed by famous landmarks including Table Mountain, Lions Head and the Cape Town Harbour, the V&A Waterfront is an ideal central point for a Cape adventure – and for this reason Newmark Hotels, Reserves & Lodges selected this exact location for three of the hotels in their attractive portfolio.
When it comes to a balance of elegance and comforts, convenience and unique experiences, this hotel management company just gets it right! In keeping with this tradition, Newmark Hotels, Reserves & Lodges' latest innovation allows guests to experience any of their outlets and charge it back to their room.
Whether staying at the Dock House Boutique Hotel & Spa and watching a superb piano concerto at the Queen Victoria Hotel, staying at the Victoria & Alfred Hotel and relishing a romantic dinner at Dash Restaurant, or staying at the luxurious Queen Victoria Hotel and setting off for a shark cage-diving experience or vineyard tour with Marvel Tours – or all of the above – guests can charge everything back to one central point at their hotel.
The Victoria & Alfred Hotel was the first hotel to be built in the Waterfront and remains one of the most popular hotels in Cape Town.  OYO Restaurant, at the V&A Hotel, offers superb cuisine to fit the season while the winter woes are combatted by OYO's creative culinary team who are pairing cosy comfort foods such as Mild Thai Green Seafood Curry; 24-hour braised lamb neck; and chicken, leek and mushroom pie with world class Cape wines.
The Dock House Boutique Hotel & Spa is the exquisite butterfly which opened in 2008 yet kept its sense of antiquity as the original harbour master's personal home in the 1800's.
The Queen Victoria Hotel is an opulent jewel of the V&A Waterfront, upholding its reputation among guests in the know as the epitome of elegance and sophistication.  Its unequivocal perfect dining partner is Dash Restaurant with its sumptuous fine-dining cuisine balanced by a sensuous and relaxed ambiance.
Whatever you envisioned for your weekend getaway or annual break, Newmark Hotels, Resorts & Lodges has the solution.  Unparalleled lodging, dining, leisure and adventure; you can have the whole cake – and charge it back to your room!
For more information contact Newmark Hotels, Reserves & Lodges at +27 21 427 5900, or visit their new website www.newmarkhotels.com.
ENDS