Well-known South African interior architectural design firm, Darley Interior Architectural Design (DIAD) has been recognised by the Europe Business Assembly (EBA) as the Best Enterprise in construction, architecture, construction materials, luxury real estate and city infrastructure. In addition Shiree Darley, who founded DIAD in 2009, received the prestigious Laureate Award as Manager of the Year 2014 for the African Region.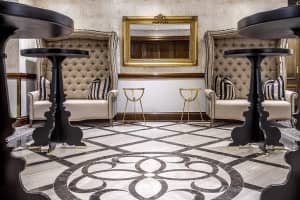 The EBA is an independent corporation for development and management of economic, social and humanitarian collaboration and promotes transformation of economic practices and the establishment of economic, educational, cultural and scientific ties between businesses in the global business community.
The EBA nominated worldwide companies for the award after conducting an independent survey and analysis of their professional successes and quality of management and ethics, as well as their ability to attract investment and enterprise opportunities, professional and modern management methods and economic and social development. DIAD's export potential, use of technology, faultless reputation and importance in the Africa region were also key in securing them the esteemed award.
DIAD is known for conceptualising, designing and delivering high quality interior architectural services to hotels, resorts, spas, airport lounges, restaurants and corporate establishments such as the Emirates First and Business Class Lounges, Fairway Hotel and Spa, Balalaika Hotel as well as Cape Town Hotel School Restaurant and Table Bay Hotel.
"This win is not only important for us as a company, but for the whole country. It shows that South African companies are a force to be reckoned with and that we can take our place with pride on the world stage," says an excited Darley. She credits DIAD's design philosophy, which prioritises the creation of uniquely designed, cutting edge concepts and customising their clients' individual needs, for their EBA victory.
For more information about DIAD visit www.facebook.com/UniquelyDIAD or www.diad.co.za, alternatively call 011 656 3058.